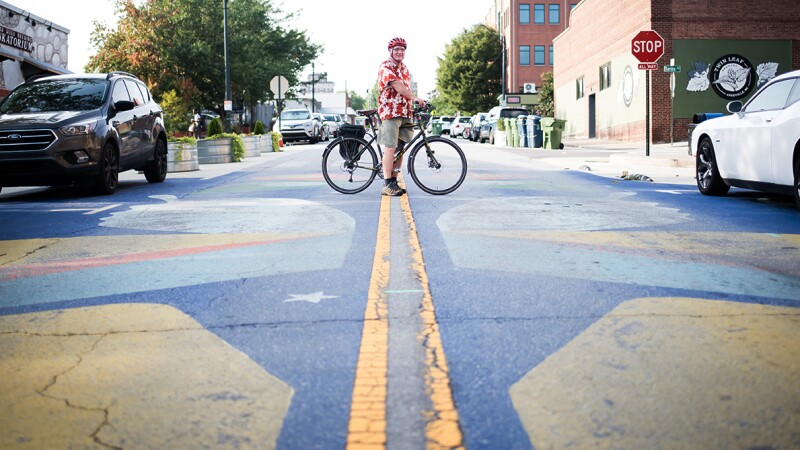 By Michelle Crouch
A line of cars used to form behind Brian Burns when he rode his bike down Coxe Avenue in Asheville, but not anymore.
On a weekend last year, AARP volunteers worked with bicycling advocacy groups to turn a half-mile of the street into a colorful bike- and pedestrian- friendly boulevard.
The new section has wider sidewalks and crosswalks, a protected bike lane—and a giant mural of butterflies on the roadway.
"It's nice that when I ride in the protected bike lane, I don't have to constantly look back to see if there's a car trying to get by," said Burns, 64.
The project is part of AARP North Carolina's effort to create more livable communities by making streets safer for everyone—drivers, bicyclists, transit users and pedestrians of all ages.
Each year more than 3,000 pedestrians and 850 bicyclists are hit by vehicles in the state.
According to the National Complete Streets Coalition, adults over 65 are 50 percent more likely than younger people to be struck and killed by a car while walking, said Lisa Riegel, advocacy manager for AARP North Carolina.
For many years the state's transportation policies have focused on getting fast-moving vehicles from one place to another as quickly as possible.
But most older residents say they want to stay in their homes and age in place. Riegel said communities need to serve the needs of all citizens, including the growing population of those who don't or can't drive.
Improving walkability
AARP North Carolina is pushing the state Department of Transportation to beef up its "complete streets" policy and require all road users to be considered when a state road is built or redesigned.
Another key goal is improving walkability. In Wilmington, AARP is seeking longer walk signals at dangerous intersections and advocating for pedestrian and bike access on the planned Cape Fear Crossing.
In Mount Airy, AARP recently awarded a Community Challenge grant to add benches, bike racks and trees to the 6.6-mile Granite City Greenway. And in Charlotte, AARP conducts walkability audits to draw attention to areas that need improvements.
Meg Fencil, program director of the nonprofit Sustain Charlotte, which partners with AARP on the audits, said volunteers documented crosswalks that were too far apart, inadequate sidewalks and intersections that need pedestrian signals.
"We know that if a street works for an 80-year-old and for an 8-year-old, then it's really safe for everyone," Fencil said.
Complete streets aren't just safer, Riegel said, but also boost property values, spur investment and increase sales at nearby businesses. They don't necessarily require a huge public commitment.
The Coxe Avenue work was done mostly by volunteers, said Rebecca Chaplin, AARP advocacy and outreach director for the mountain region.
"These kinds of projects really change the way we think about what transportation is," Chaplin said. "It's about connecting people and getting them from place A to place B, whether they use a wheelchair, stroller or bike."
Want to get involved with AARP age-friendly communities? Email ncaarp@aarp.orgwith the subject line "age-friendly," or call 866-389-5650.
Michelle Crouch is a writer living in Charlotte.

About AARP North Carolina