GREENSBORO -- Fraud and scams targeting older adults continue to plague the state and nation as criminals use tricks both old and new to try to steal our money or identity.
AARP volunteers from across North Carolina met in the Triad to learn about the fraud targeting Tar Heels and to get a fuller understanding of the resources that are available to make anyone a fraud fighter.
According to AARP Fraud Watch Program advisor Liz Buser, "If you can spot a scam, you can stop a scam."
AARP created the Fraud Watch Network to empower consumers to spot and avoid scams, and to provide support and guidance to victims and their families when fraud happens.
Buser said, "You don't have to be a member of AARP to access the Fraud Watch Network. In addition to free information and resources online, you can sign up for free Watchdog Alerts that you'll receive by email every two weeks. The alerts will keep you up to date on the latest ways criminals are targeting victims.
On the Fraud Watch Network site, you can monitor hot spots with a scam-tracking map where you can report scams and read about scams reported by others around the country and close to home.
Also on the Fraud Watch Network site, you can find out what to do if you or someone you know has been victimized and take advantage of its toll-free hotline," she noted.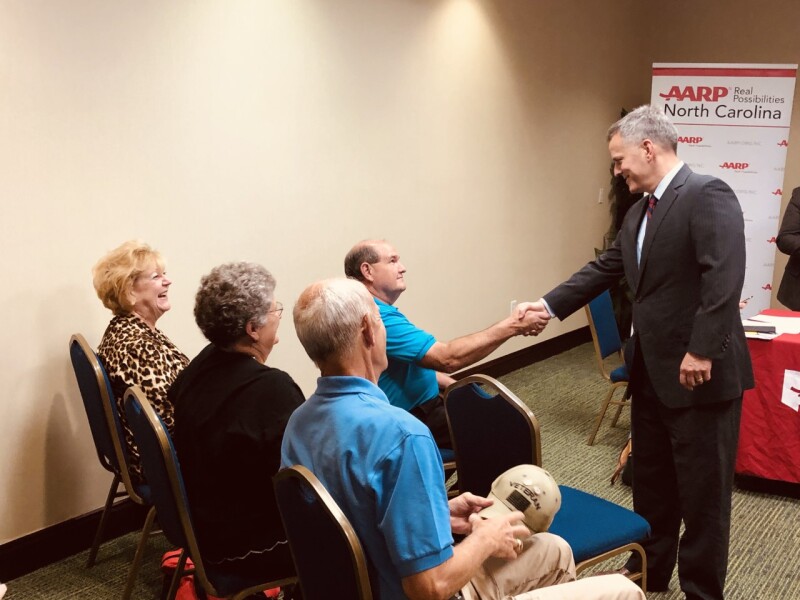 To kick off the meeting, North Carolina Attorney General Josh Stein, Winston-Salem Police Detective Scott Sluder and AARP Fraud Watch program advisor Liz Buser conducted a telephone town hall providing information to thousands of AARP members in North Carolina and answering some of their questions.
Since volunteers are vital to creating greater awareness, the training was organized by AARP volunteers who developed compelling content and speakers on medical and Medicare fraud, robocalls, the vulnerability of those with dementia, online security, identity theft and more.
AARP volunteer Helen Savage, who played a leading role in the training, said, "There are so many ways people can get scammed -- by phone, internet, mail, and in person. AARP worked with motivated volunteers from across the state to teach techniques for fraud prevention."
Volunteer Brenda Loy of the Triad region said, "I am new to the Fraud Watch Network and was particularly impressed with focus on resources available to us and to the particpants of upcoming workshops."
AARP volunteer Fillmore Bowen of Cary teaches classes in his community on how to stay safe on social media and how to protect your identity. "Strong passwords are vital, but don't use the same passwords on multiple sites. If you are challenged by memorizing lots of passwords, use a password manager that only requires memorizing one password and can automatically generate complex passwords for you.
AARP volunteer David Kirkman, who recently retired after serving as Special Deputy Attorney for the NC Department of Justice and formed and managed its elder fraud unit said,"There are dozens of age-related charactiristcs that make seniors more vulnerable to criminal activity, e.g., retirement income, depression, memory issues or other forms of cognitive decline. Fraudsters tailor their pitches to exploit those vulnerabilities. They especially seek out people with early stage dementia who are most susceptible to their tricks and cons."
Mercedes Restucha-Klem, who serves as Assistant Attroney General with the Public Protection Section said, "There were over 160 million cases of identity theft in the United States. With a number of recent cyberbreaches, metropolitian areas including Durham-Chapel Hill and Charlotte are among 150 worst in the US when it comes to ID theft. Having your identity stolen can cost a lot to fix and can lead to the denial of credit, harrassment from bill collectors you do not owe, and sometimes even arrest. "
She added, "If you have been a victim of a breach, freezing your credit is the best thing you can do."
If you have a group of ten or more who are interested in a fraud watch presentation, please send an email to ncaarp@aarp.org and add "Fraud Training" to the subject line.

About AARP North Carolina