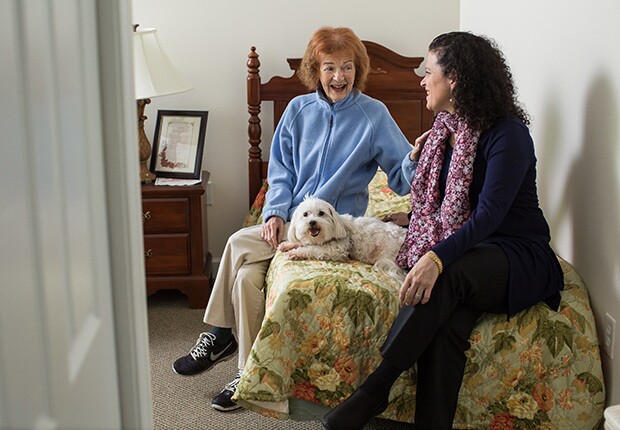 By Sue Price Johnson

Long-term care in the state—from in-home services to institutional care—ranks 38th in the nation, according to a recent survey. AARP North Carolina, the state Department of Health and Human Services and other organizations are working to upgrade that performance.

They support legislation that helps improve the quality of care and are educating the public about issues such as tighter oversight of facilities and the high cost of care. Families seeking long-term care for a relative often experience sticker shock and confusion over their options.

When Deanna Cochran, 52, of Wendell, set out to find memory-care housing for her mother, 80, she quickly discovered that the average cost of an assisted living community in her area is $50,000 a year, and memory-care facilities are even more expensive.

"It just took me aback when I learned how much it cost," Cochran said. "Some people need this and can't afford it."

The state's low ranking came from the 2017 Long-Term Services and Supports State Scorecard, produced by AARP Foundation, the Commonwealth Fund and the SCAN Foundation. Survey areas included affordability and access, the quality of life and care, the choice of settings and providers, support for caregivers, and effective transitions between hospitals, nursing facilities and homes.

Bill Lamb, executive director of the nonprofit Friends of Residents in Long-Term Care, said quality of care is a major issue.

AARP North Carolina and Lamb's organization are working together to address areas of concern in the quality of long-term care in nursing homes and assisted living facilities. They're developing proposals for the 2019 session of the General Assembly.

Looking to upgrade oversight

Inadequate state funding has led to a lack of oversight for the 75,000 North Carolinians in long-term care, Lamb said. One proposal would be to hire at least 11 more long-term care ombudsmen to provide better oversight of facilities.

An ombudsman's role ranges from working as mediator between residents or their families and facilities to educating policy­makers and the public about needs within the industry, such as recruiting and retaining good employees

More funding is also needed, Lamb said, to help counties meet the state-mandated requirement to respond to complaints involving long-term care facilities within 24 or 48 hours, depending on the problem.

The state Department of Health and Human Services offers help to those searching for assisted living or a nursing home: an online rating system with access to the history of complaints and corrective measures taken (at ncdhhs.gov/dhsr/index.html).

However, the rating system does not include some quality and safety factors such as incidence of falls, behavior management and use of medications. AARP supports improvements to the rating system and hiring more ombudsmen.

In addition to meeting with legislators and policymakers, AARP North Carolina wants to hear from people in assisted living communities and their families about other issues that should be considered. If you have questions or comments or would like to help as an advocate, email ncaarp@aarp.org.

Sue Price Johnson is a writer living in Raleigh.
About AARP North Carolina