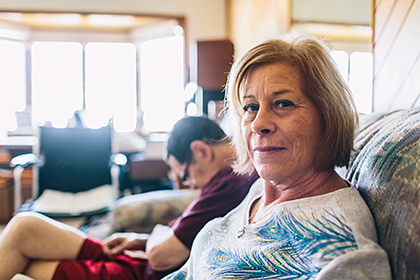 By Donna Liquori

About 7,000 New Yorkers are on waiting lists for in-home services that help caregivers keep loved ones at home longer and out of high-cost institutional care. A coalition of advocacy groups, including AARP New York, is urging the state to spend more to clear those lists.

AARP is recommending that New York appropriate an additional $26 million to the state Office for the Aging, said Bill Ferris, AARP New York legislative director. The 11 percent increase for that office would fund more adult day care programs, personal care and respite care, which provides short-term relief for regular caregivers.

The budget proposed by Gov. Andrew Cuomo (D) doesn't include any additional funding to help the state's 4 million unpaid caregivers.

Last summer, during 12 listening sessions in the state conducted by AARP New York and other groups, about 900 caregivers pleaded for help. The groups issued a report in November, "Caregivers in Crisis: Why New York Must Act," aimed at the legislature and governor.

One finding: The pool of potential caregivers is shrinking as boomers age and the number of younger people declines in many communities.

New York ranks 48th in the nation for providing support for caregivers, according to a 2011 report by AARP and other groups that studied access, affordability and quality of care.

"People absolutely need help," Ferris said. "You have a frail individual who needs services now and the last thing you want to hear is there is a four-month waiting list."

Caregivers aren't the only ones frustrated.

"It really has reached a problematic state. That's why all the groups have joined forces," said Laura Cameron, executive director of the Association on Aging in New York. Her group advocates for county-based agencies for the aging.

AARP is also proposing that the state use $10 million in federal funds to bolster NY Connects, a state program that assists caregivers. Some of those funds would provide navigators to help caregivers find support groups and respite programs like those at the Jewish Community Center of Staten Island.

Waiting for help

The center opens its doors to everyone, according to Megan Orisino, its caregiver support program director. But there's a waiting list for some of its caregiver services.

The center runs the only caregiver program on Staten Island funded by the New York City Department for the Aging. "We make a significant impact on people's lives," Orisino said.

Caregivers can attend a support group while their loved ones are in adult day care. It's so popular that a second group was created and a third is being considered.

Orisino said some situations are heartbreaking: "If it is something like Alzheimer's and dementia, where [the loved one] can't remember them anymore ... the caregiver is going through this loss."

Marsha Sietz, 66, of Staten Island, and her husband had planned to travel after retiring. Then Steven, 69, was diagnosed with Alzheimer's disease about seven years ago. She uses the travel money they had put aside to pay for an in-home aide.

Bonding with her fellow support group members at the community center has been a lifeline, helping her deal with isolation.

"My hardest part is losing contact with the outside world and of course watching my husband" as his condition deteriorates, the retired bank teller said. "The support group is always there for you."

Donna Liquori is a writer living in Delmar, N.Y.