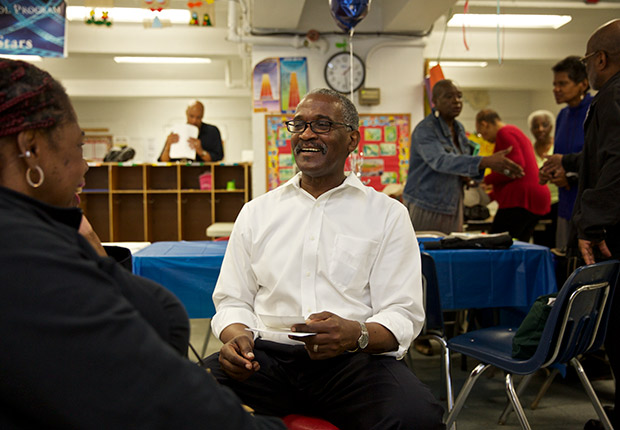 By Ann Levin

Last summer, before he was ready to retire, William Hamer was laid off from his full-time job as director of senior services at a nonprofit community development corporation in Harlem.

A longtime advocate for older people, Hamer, 67, decided to increase his volunteer work while he looked for a new job. In April he was among about a dozen volunteers trained by AARP New York to present a program called Life Reimagined to business and community groups across the state.

The program, which AARP launched nationwide in 2012, includes a short, focused life review—also called a "checkup"—to help people map out new strategies, both personal and professional. It's designed to be used in times of transition, such as job loss, retirement, divorce, a new career or new family. AARP sums up the process in six words: reflect, connect, explore, choose, repack and act.

Hamer was unemployed for seven months before he was tapped to develop a new senior center in Harlem that focuses on health, fitness and exercise. Now he is eager to introduce Life Reimagined to clients there.

"The program and checkup can help people revisit some of the things they wanted to do earlier but didn't have time for because of family and career," Hamer said. "I think it can stimulate great discussion."

Dave Irwin, manager of communications for AARP New York, says the target audience for Life Re­imagined goes beyond AARP's core demographic of 50-plus Americans to encompass anyone concerned about his or her career.

He cites a recent survey showing that more than 6 in 10 workers worry they will lose their jobs because of the economy, and an AARP study that found 1 in 4 older workers lost a job in the past five years.

Charting a new direction

"There is a huge demographic that we call the worried worker," Irwin said. "They're worried about their job security, current path of their career, ambitions and passions in the workplace and even beyond."

The two-hour program, which features a workbook, exercises and homework, prompts participants to review the "spiral" of their lives so far, pinpoint their strengths and weaknesses, and chart a new direction.

Participants identify goals, people who can help them get there and a plan of action. Popular topics include travel, writing and adopting healthier habits.

Dionne Polite, AARP New York associate state director for multicultural initiatives, says the Life Reimagined program can be helpful to people of all ages.

"AARP is there to say, 'Here are the tools to help you get where you want to go,' " she said.

AARP New York will publicize upcoming workshops through its website, email blasts and social media, including Facebook and Twitter. Workshops are already scheduled this fall for the Sister to Sister International conference in Dobbs Ferry, the Circle of Sisters convention in New York City and at U.S. Small Business Administration forums throughout the state.

The program is also available online.

In January, Bob "Hoff" Hoffman, 68, retired as AARP Northeast regional vice president after 22 years with the organization. As he contemplated what to do next, he decided to volunteer for AARP and become a Life Reimagined trainer.

"The whole process is leading you to the goals you have for the future and getting you there in a relatively organized way," he said.
Ann Levin is a freelance writer living in New York City.