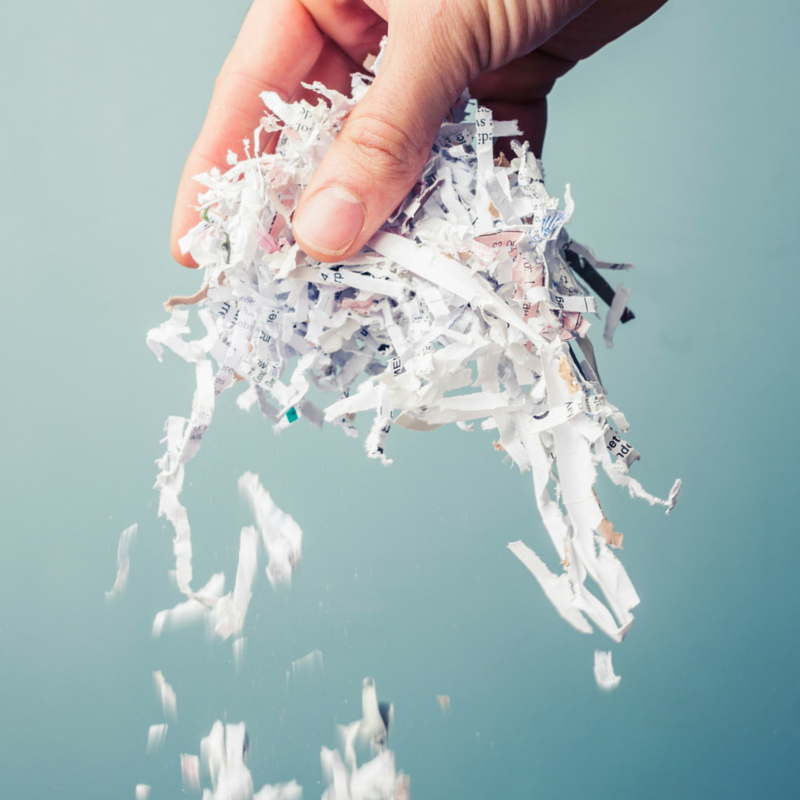 New Yorkers Shred Personal Documents at 16 Events Across State, 90+ Across U.S. to Provide Secure Document Destruction; AARP Offers Tips
New Yorkers are taking a swipe against crime this week, helping protect themselves from potential identity thieves by shredding sensitive personal documents in locations around the state as part of "Shred Fest 2016," a series of free events sponsored by AARP and New York State Attorney General Eric T. Schneiderman's Office.
Attorney General Schneiderman and AARP New York State Director Beth Finkel launched the initiative on April 26 with a press conference at a Shred Fest event in Hell's Kitchen, where they warned consumers about the growing problem of ID theft and provided important tips on how to protect themselves. Joining AARP and the Attorney General at the press conference were Manhattan Borough President Gale Brewer, Assemblyman Richard Gottfried and C. Alicia Georges, the President Elect of AARP's Board of Directors. More than 400 New York City residents came to the event and shredded personal documents, part of nearly 2,300 statewide on the first day of Shred Fest.
Upstate, Shred Fest launched in the Capital District on April 26 with AARP National Board Member Neal Lane, immediate past President of AARP New York and a former Director of the New York State Office for the Aging, and representatives from Attorney General Schneiderman's and Albany County Executive Daniel P. McCoy's offices.
Over 4,600 New Yorkers attended Shred Fest events, shredding about 132,800 pounds of paper - or 66.4 tons, the equivalent of 6 1/2 city buses. About 600 Western New Yorkers turned out in the Buffalo suburb of Depew; over 1,100 Upstaters braved the rain and cold in Rochester, Syracuse, Albany and Watertown (where it snowed); over 250 Harlem residents showed up for their neighborhood event, as did a similar number of Staten Islanders; about 400 Long Islanders came to events in Nassau and Suffolk counties; about 250 attended Shred Fest in Poughkeepsie and around 300 came out in Flushing.
Those events were among 16 held across New York State. A total of over 90 events are taking place in 39 states across the nation this week as part of Money Smart Week® (April 23-30). The events are being conducted with support from the AARP Fraud Watch Network and the AARP Foundation.
Identity theft is a pernicious problem. Every two seconds someone's identity is stolen; 13.1 million Americans were victimized by identity fraud in 2013; and an AARP survey of New York voters 50 and over in 2014 found more than half said they worried about identity theft – far higher than any other type of fraud (56% compared to second place credit card fraud at 39%).
Shred Fest 2016 is part of AARP's and Attorney General Schneiderman's ongoing efforts to help consumers avoid falling victim to identity theft.
"Identity thieves are constantly coming up with new and creative ways to target and take advantage of victims – especially seniors," said Attorney General Eric T. Schneiderman. "Shredfest is an excellent opportunity to keep these scammers from getting ahold of your sensitive personal information, and I'm pleased New Yorkers took advantage of their chance to keep identity thieves at bay."

In 2015 New York State residents registered over 100,000 complaints about fraud with the Federal Trade Commission.
"Identity thieves routinely search through dumpsters and trash cans, looking to find confidential information. Our Shred Fest 2016 events are allowing consumers to discard this paperwork in a safe and secure manner," said Beth Finkel, State Director of AARP New York. "Financial fraud causes millions of dollars in losses each year. With the tax-filing season behind us, this was a great opportunity for New Yorkers to do a spring cleaning of their old financial documents and other records."

A full list of Shred Fest events in New York State can be found online.
All events end at the listed time or until the shredding truck reaches capacity.
For New Yorkers who can't make a Shred Fest 2016 event, security experts urge you to shred the following types of materials to avoid having sensitive information compromised:
Old documents: Papers that carry your Social Security number, birth date, signature, account numbers, passwords or PIN numbers.
Banking: Canceled or unused checks. Shred deposit slips and ATM and credit card receipts, once you receive your monthly statements.
Credit Cards: Preapproved credit card applications and incentive/gift checks from credit card companies.
Medical: unneeded medical bills.
Investments: Investment account statements.
Obsolete ID cards: Expired driver's licenses, medical insurance cards and passports.
For those consumers who use a home shredder, experts also recommend the use of a micro-cut model. Tests have shown that the scraps of paper from a straight or cross-cut shredder can be reassembled by identity thieves. With a micro-cut shredder, the paper is rendered into impossible-to-reassemble debris.
More information on how to keep yourself safe from identity theft fraud, and alerts regarding other types of scams, is available from the Fraud Watch Network at www.aarp.org/FraudWatchNetwork.
Shredding services will be performed by a third party. All documents and information provided for shredding are subject to that party's privacy and informational security policies.
About AARP
AARP is a nonprofit, nonpartisan organization, with a membership of nearly 38 million, that helps people turn their goals and dreams into real possibilities, strengthens communities and fights for the issues that matter most to families such as healthcare, employment and income security, retirement planning, affordable utilities and protection from financial abuse. We advocate for individuals in the marketplace by selecting products and services of high quality and value to carry the AARP name as well as help our members obtain discounts on a wide range of products, travel, and services. A trusted source for lifestyle tips, news and educational information, AARP produces AARP The Magazine, the world's largest circulation magazine; AARP Bulletin; www.aarp.org; AARP TV & Radio; AARP Books; and AARP en Español, a Spanish-language website addressing the interests and needs of Hispanics. AARP does not endorse candidates for public office or make contributions to political campaigns or candidates. The AARP Foundation is an affiliated charity that provides security, protection, and empowerment to older persons in need with support from thousands of volunteers, donors, and sponsors. AARP has staffed offices in all 50 states, the District of Columbia, Puerto Rico, and the U.S. Virgin Islands. Learn more at www.aarp.org.
About the AARP Foundation
AARP Foundation is working to win back opportunity for struggling Americans 50+ by being a force for change on the most serious issues they face today: housing, hunger, income and isolation. By coordinating responses to these issues on all four fronts at once, and supporting them with vigorous legal advocacy, the Foundation serves the unique needs of those 50+ while working with local organizations nationwide to reach more people, strengthen communities, work more efficiently and make resources go further. AARP Foundation is AARP's affiliated charity. Learn more at www.aarpfoundation.org.