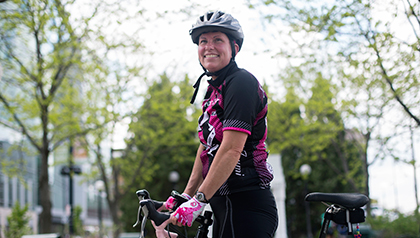 By Noreen Willhelm

When Mary Wiseman needs a break after a long day at work, she hops on her bicycle and heads to one of the roughly 330 miles of paved, off-street trails that wind through Dayton and surrounding counties.

"I find it very relaxing; it gives me a sense of freedom," said Wiseman, 52, a Montgomery County Common Pleas Court judge. "It puts me in the middle of nature—I see great flora and fauna, even in the middle of Dayton."

The bike trails are the centerpiece of the Complete Streets program for the region, an effort to make streets safe, convenient and comfortable for motorists, cyclists and pedestrians.

The paved trails—which meander through cities, towns and parks from Urbana, 38 miles north of Dayton, through Loveland, 43 miles south—began in 1976 with an 8-mile loop along Dayton's three rivers. The trails now generate an annual economic impact of more than $13 million, according to a city report.

Kathy Keller, AARP Ohio communications director, rides the trails from Xenia to Dayton a couple of times a year. "The Miami Valley trails are scenic and fun," she said, "and entice residents and visitors to enjoy walking and cycling in a community where safe streets are an obvious priority."

The network of bikeways links directly to streets—including many that now have bike lanes—enabling cyclists to travel safely to their destinations. It's part of what boosted Dayton into Bicycling magazine's 2012 list of America's top 50 bike-friendly cities and earned it recognition in 2011 from the National Complete Streets Coalition.

"I wouldn't ride my bike nearly as much if it wasn't for the dedicated bikeways," Wiseman said. "My typical starting point is down in Miamisburg. From that launching point, I could conceivably go to Cincinnati.

"They can take you anywhere you want to go [with] enough traffic that you never feel isolated."

Cyclists in high gear
The number of trail users who also biked on streets rose to nearly 60 percent in 2013, compared with 49 percent in 2009, according to a 2013 survey.

Bob Steinbach, 63, is one of them. Steinbach frequently bikes 11½ miles to work in downtown Dayton from his suburban Beavercreek home. After a couple of miles along neighborhood streets, he jumps onto the Creekside Trail bikeway and, 8½ miles later, stops at the RiverScape MetroPark Bike Hub, a publicly owned facility in downtown Dayton. There he showers and then rides the last few blocks to his office at the Miami Valley Regional Planning Commission (MVRPC).

Steinbach serves as the commission's director of sustainable solutions and transportation alternatives. When the MVRPC adopted a bike plan in 2008, "bicycling was in the air," Steinbach recalled. "Active transportation was starting to take off."

The bike plan led directly to the Complete Streets Policy, advocated by AARP and others and approved by the MVRPC board in 2011.

"I think it's working well … I see a lot more cyclists," Steinbach said, including older people, families and low-income riders. More than 71 percent of those surveyed on the trails in 2013 were over age 45, and more than 40 percent were 56 or older. "People feel safer because the bikeways exist," Steinbach said.

Cycling advocates say the trails are fitting in a community whose history with bikes goes back to the Wright brothers, who fashioned their first airplanes in their West Dayton bicycle shop.

Noreen Willhelm is a writer living in Jefferson Township.