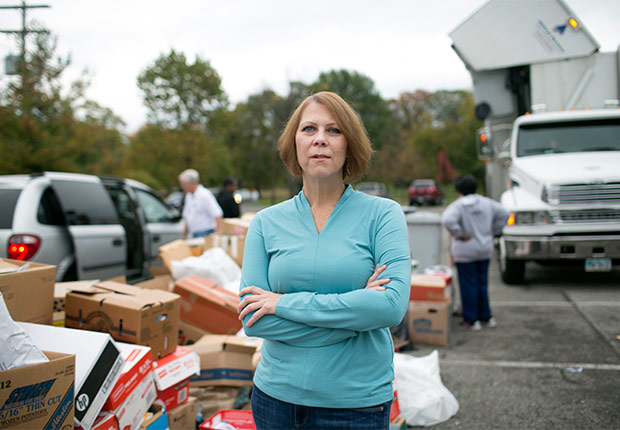 By Benjamin Lanka

For Tamara James, it would be helpful if Ohioans stopped being so nice.

James, interim state director for AARP Ohio, isn't looking for Buckeyes to be rude, but some healthy skepticism would be beneficial in warding off scam attempts.

"Our good manners get us in trouble," she said, advising that "it's OK to say no."

That is why James and the state organization recommend that people across Ohio—whether or not they are AARP members—participate in the AARP Fraud Watch Network.

The free online resource aarp.org/fraudwatchnetwork provides alerts on the latest scams, prevention tips gleaned from interviews with con artists and police, and real-world examples of scams from regular people so others can avoid them.

Helping inform others is one reason a 73-year-old AARP member in Lake Milton recently shared her fraud story with the office of Ohio Attorney General Mike DeWine (R).

A caller pretending to be the woman's granddaughter said she was jailed in Chicago after being in a car wreck, her bank account was frozen and she needed money for bail.

Variations of this scam are common, with the actual call often originating in a foreign country.

Another common fraud involves a pretend software company representative demanding access to your computer to fix a nonexistent problem.

James said it is normal for scam artists to push people to make a rash decision, adding that it is important to step back and take a moment to think about the situation.

That is what the woman did, calling her granddaughter's parents to see if she was really in trouble. Once assured that her granddaughter was safe, she called local police to report the scam. She said people need to be sure the situation is real before sending money.

"You're not trying to be cruel," she said. "But my money has been earned by hard work. I don't need it to be taken away by anyone."

Not all people who get such calls are as wise. Through October, the attorney general's office had received more than 40 similar complaints, with people losing in excess of $4,000, on average.

Technology enables crime
DeWine said education is critical, especially as technology has made it much easier for scam artists to reach potential victims from across the globe.

"We've always had crooks and con artists and bad people," he said. "Now these people have a very long arm, and that long arm is the Internet. They can rip people off all over the world."

For example, technology can now disguise where phone calls originate, so a call might look like it's coming from an Ohio number but it might really be from Puerto Rico.

And the schemes target all people, including a "puppy scam" in which online ads claim to be selling cute dogs, but the puppies never arrive after money is sent.

Retrieving money sent to a swindler is very difficult, DeWine warned, and that is why prevention efforts are important.

"It's a constant battle for us to try to warn the public," he said.

For example, he cautions people against any transaction in which they are being pressed to wire money or send a prepaid credit card, because those transactions are almost impossible to reverse.

This is why AARP provides scam prevention materials and conducts events to inform the public. For example, the organization conducted six "Shred-a-Thons" in Ohio last year to help protect residents from identity theft.

James said people of all ages need to be cautious, noting that her niece put her birth date on social media publicly, which could be used in identity theft.

"We are really targeting the information to everyone," she said.

Groups interested in hosting fraud prevention presentations should email OHvolunteers@aarp.org or call toll-free 866-389-5653.

Benjamin Lanka is a writer living in Westerville, Ohio.