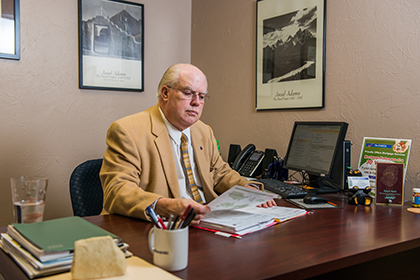 By Sarah Hollander

Greg Vanek, a certified financial planner, advises people to envision retirement as three tiers: basic, preferred and dream.

Think of it this way, he says: Will you be content simply paying the bills? Or would you rather be able to afford hobbies? How about a once-in-a-lifetime journey on the Orient Express?

"Knowing where you want to go helps with getting there," he said.
An AARP volunteer from Middleburg Heights, Vanek, 66, led three of the five free Ready for Retirement seminars sponsored by AARP Ohio around the state last fall.

More financial security and future planning seminars are expected throughout this year, said Kathy Keller, AARP Ohio communications director. The seminars will be posted on the Ohio website aarp.org/oh as they are scheduled. Some financial seminars will be conducted online.
For Vanek, helping people who didn't grow up with financial advice from family or teachers is especially satisfying.


Needs have changed

During Vanek's more than 25 years as a financial planner, how people view retirement has changed dramatically, he said. In the 1980s and '90s, many people were looking for a way to retire sooner. Now, people are delaying retirement because they haven't saved enough for several decades of nonwork life.

"Traditionally, people grew up thinking they'd be better off than their parents, but a lot of people I'm talking to now are envious of the retirements their parents had," Vanek said.

Private pensions and investments are less common these days, he said, and there is more dependence on Social Security. Twenty-three percent of married couples with at least one spouse 65 or older—and twice that percentage of single people—depend on Social Security for 90 percent or more of their income, according to the Social Security Administration.

On the positive side, Social Security has lifted millions of older people out of poverty, said Robert Applebaum, a sociology and gerontology professor at Miami University in Oxford. Without Social Security, roughly 40 percent of Ohioans 65 and older, or more than 622,000 people, would fall into poverty, according to the AARP Public Policy Institute.

But Applebaum added that it was never meant to be the sole source of income: "Relying on Social Security alone is a serious challenge."

Tackling financial homework often serves as a wake-up call, Vanek said. Everyone should devise a retirement budget that includes basic, preferred and dream outcomes.

Tools available online
People who see retirement on the horizon can use the AARP Ready for Retirement guide at aarp.org/readyforretirement, which takes users through a five-step process to help make decisions.

In addition, AARP offers these financial planning tools:

When thinking about hiring a professional, seek out referrals, Vanek said.

"Ask people with similar attitudes toward life." Check the planner's background (cfp.net) and interview at least three, he suggested.

Make sure that the planner is truly listening and not pitching a one-size-fits-all plan. "You want to find someone who is willing to listen to you and walk in your shoes, then add their expertise," he said.
For more tips, go to aarp.org/orderfinancialpubs.
Sarah Hollander is a writer living in Cleveland.