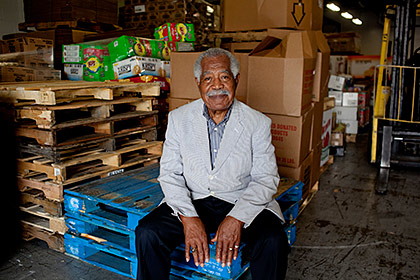 By Janice Brewster • With all the food in America, there shouldn't be any problem with anyone getting food that's nourishing," said Norman A. Bell Sr., 80.

But as a volunteer for a homeless shelter and soup kitchen, the Toledo resident knows that many Ohio residents can't afford enough healthy food for their families. That includes older people who struggle with the cost of nutritious food.

Nationally, more than 8 percent of households that include someone 65 or older can't put enough food on the table at some point during the year, according to the U.S. Department of Agriculture.

An answer is peanut butter.

Paula Martinez, a dietitian and nutrition consultant for the Council on Aging of Southwestern Ohio, said peanut butter is a healthy food for older people because it packs a lot of protein in a modest serving and contains good fats.

Another plus is that most older people like it, said Bell, a member of the board of the Toledo Northwestern Ohio Food Bank.

"No one has ever complained about peanut butter," he said.

A downside is peanut butter's salt content, a problem for some older people with high blood pressure.

"Too much sodium increases the risk for high blood pressure, which can lead to kidney disease and heart problems," Martinez said.

Healthy but costly

Even when purchased in bulk, however, low-sodium peanut butter costs about 15 percent more than regular peanut butter.

To help bring healthier peanut butter and other food staples to older Ohioans who may need food assistance, AARP Ohio and Walgreens stores are joining forces this month to raise money for the bulk purchase of low-salt, low-sugar peanut butter.

From Sept. 4-17, customers in all 252 Ohio Walgreens stores can donate money to "Spread Some Good" at the checkout counter through the AARP Drive to End Hunger.


Peanut butter's protein and long shelf life makes it a desirable commodity for the Ohio Association of Foodbanks' 12 member food banks, which distribute food to 3,300 agencies, including food pantries, soup kitchens and homeless shelters.

After the peanut butter is purchased, it will be distributed among the association's agencies and will be reserved for older clients.

Money raised in a community will be used to buy peanut butter for pantries and shelters in that same community, said Kevin Craiglow, AARP Ohio associate state director for public outreach.

Spread Some Good organizers hope this year's program will raise enough money to buy thousands of jars of peanut butter for older Ohioans.

"We're hoping for a full semi truckload," said Joree Jacobs of the Ohio Association of Foodbanks. That would amount to about 2,800 cases of peanut butter—more than 33,000 17-ounce jars.

A similar program last year netted more than 1,000 jars of peanut butter donated at 60 Walgreens stores in greater Cincinnati.

Wesley Community Services, the 2012 program's beneficiary, distributed jars of peanut buter to people 60 years and older through its Meals on Wheels program in southwest Ohio and northern Kentucky.

Wesley's Meals on Wheels will receive a portion of the Spread Some Good donations collected this year in southwestern Ohio to purchase peanut butter and other staples.

"Peanut butter is a nutritious product that goes very far," Jacobs said. A $1 donation will provide more than 11 protein-packed servings of reduced-sugar, reduced-sodium peanut butter. Donations can be sent to the Ohio Association of Foodbanks and Wesley Community Services.

Janice Brewster is a writer living in Cincinnati