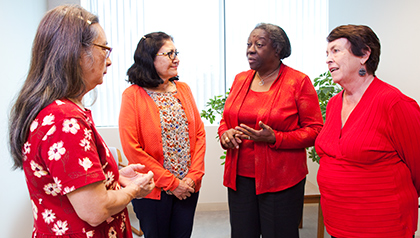 By Lynne Terry

As a teen in Selma, Ala., during the civil rights protests in the 1960s, Geneva Craig was billy-clubbed, cattle-prodded and tear-gassed. She locked arms in human chains and participated in boycotts with other African Americans. She was angry but was advised by the Rev. Martin Luther King Jr. to learn patience.

She, too, had a dream. Craig longed to be a nurse, a profession reserved in the South mainly for whites. But she snagged a spot in the nursing program at Northwest Alabama State Junior College of a largely white college in Alabama. She graduated, passed the state exam with high scores and went on to earn a doctorate, an accomplishment that took eight years while she was a full-time nurse, wife and mother.

"Patience, persistence, believe" was her motto, she said. It still is.

Now a nurse in Medford, Craig is the newly appointed chair of the Diversity Advisory Council of AARP Oregon. The 12-member council's mission is to foster diversity within the state organization and reach out to diverse communities.

"We will do everything that we can to ensure that all individuals are represented," Craig said.


Changing demographics

Although Oregon is less diverse than many other states, with a population that is 88 percent white, according to the U.S. Census Bureau, the demographics are changing.

Oregon's 50-plus population is projected to grow 8 percent by 2018. But the number of African Americans over 50 is expected to increase 15 percent, while the population of older Hispanics is projected to increase 30 percent and older Asian Americans 21 percent.

All of those groups are represented on the council, along with the Native American and lesbian, gay, bisexual and transgender (LGBT) communities.

Julian Spalding, 70, of Ashland—who is Native American and gay—recently joined the council, following a screening there last year of Gen Silent. The documentary is about LGBT seniors who, fearing prejudice, go into the closet when they enter an assisted living facility.
Spalding was impressed that AARP sponsored the screening, one of four statewide.

"A lot of these [LGBT] people are AARP members," Spalding said. "AARP needs to be better equipped to serve them."

As a council member, Spalding is forging alliances between AARP Oregon and LGBT people in Southern Oregon. "My goal is to make them visible to the larger community," he said.

Council member Judy Bowen, 64, of Dallas, near Salem, is working with Native Americans, a role she played as a liaison between Oregon's Department of Human Services and Native American tribes until she retired two years ago.

Bowen, who is white, organized a two-day conference in Canyonville in April for the nine tribes in Oregon, focusing on caregiving and healthy aging.

Her role is to keep AARP connected to the tribes and give them a voice in the organization. "It's a wonderful relationship," she said.

Bandana Shrestha, AARP Oregon community engagement director, said council members are champions of diversity and inclusion.

"They ask the difficult questions," Shrestha said. "And they help us think about things we might not be thinking about."

Each council member brings various skills to the mix. Together they focus on better health and long-term care, financial and retirement security, and livable communities that include everybody, regardless of race, creed, religion or sexual preference.

"AARP is not just about the status quo," Craig said. "It's about being inclusive and representing all groups."

Lynne Terry is a freelance writer in Portland.