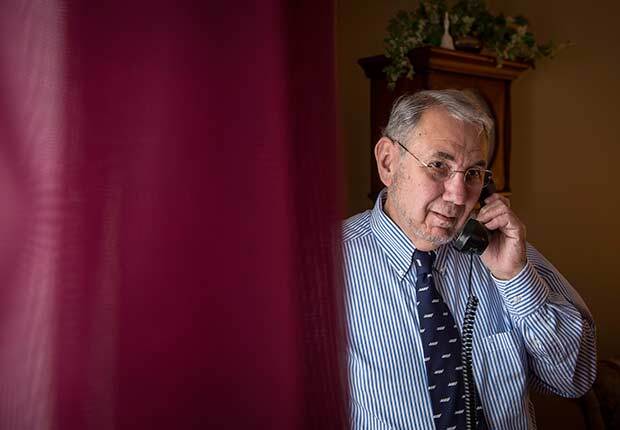 By Cristina Rouvalis

The retired bank executive was elated when he got a call announcing he'd won a sweepstakes contest. All he had to do was pay $40 to process his winnings. The man sent in the money, but then he got another call asking him to cough up a few hundred dollars more for tax withholding.

The man paused. Was this legit? So he called his friend, Tony Ludovico, a retired attorney who lives in Mifflinburg.

"It's a scam. Hang up the phone. Do not send more money," Ludovico advised his chagrined friend when they spoke last year.

Today, Ludovico, 71, warns a wider audience about the growing number of scams that prey on older people. As one of 14 volunteers in the state for the AARP Fraud Watch Network, a national initiative, he travels to senior centers and other meeting places to caution people how to avoid the grandparent scam, the IRS scam, the sweepstakes scam, the front desk scam and so on.

"If you are 50 years old or older, you are a target for scams," Ludovico said. "You have more money. You were brought up in an era where you are taught to be polite and not hang up on people. You think people are trustworthy. But people have to be reminded that it is a different world today. We have to be more careful to protect our privacy and our finances."

Older people targeted
Nationwide, older people are fleeced out of roughly $3 billion a year in scams and frauds via the phone, mail and Internet, said David Kalinoski, AARP Pennsylvania associate state director for community outreach, citing a 2011 study by MetLife.

Educated retirees are often the targets. "They tend to have more money and they also feel like they can't be duped," Kalinoski said. When they are bilked out of their retirement savings, he said, they are often too embarrassed to report it.

The AARP volunteers alert people to the latest tricks of scam artists by directing them to the Fraud Watch website. Packed with tips, resources and a sign-up for email fraud alerts, the site is free for anyone.
People can also report tips about scams to the Fraud Watch Helpline at 877-908-3360 toll-free.

Organizations interested in booking a Fraud Watch Network presentation should contact Mary Bach, chairperson of the AARP Pennsylvania Consumer Issues Task Force, at mbadvocate@msn.com or 724-327-6969, or Kalinoski at dkalinoski@aarp.org or 717-237-6483.

Scams are seasonal. "During tax season, it's the IRS scam with people posing as IRS agents and saying, 'We need you to wire this money to get this debt under control right away,' " Kalinoski said. "There is the Valentine's Day scam, looking to prey on people with a wine and gift basket. They are trying to 'phish' [for] credit card information. They drain their [victims'] pocketbook, their bank account and their love life while they are at it."

The grandparent scam involves a call purportedly from a grandchild who claims to have been arrested and needs bail money but is afraid to call the parents and pleads with the grandparent not to do so either. The "bail money" vanishes.

Then there is the front desk scam. A person who checks into a hotel gets a phone call as soon as he or she enters the room. Identifying himself as the front desk clerk, the caller says the credit card information didn't go through and asks the guest to read it off again. In fact, the caller is a thief observing unsuspecting guests in order to steal their credit card information. "Don't read your credit card," Ludovico said. "Tell them 'I will be right down."'

To ward off con artists, volunteers give tips: Never give out your Social Security number or other personal information over the phone. Shred your financial documents. Install a lock on your mailbox. Beware of computer viruses.

Victims of fraud are encouraged to call their local law enforcement authorities, but unfortunately, retrieving stolen money is usually difficult. "Once the money is gone, it's gone," Kalinoski said.

Volunteers try to deliver their warnings in an entertaining fashion. Sometimes they play "Fraud Bingo," in which players cover up squares that spell out FRAUD instead of BINGO. Each square has a tip such as "Hang up the phone," a reference to telemarketers.

"I am giving them permission to be rude on the phone and hang up," Bach said.
Cristina Rouvalis is a freelance writer based in Pittsburgh.