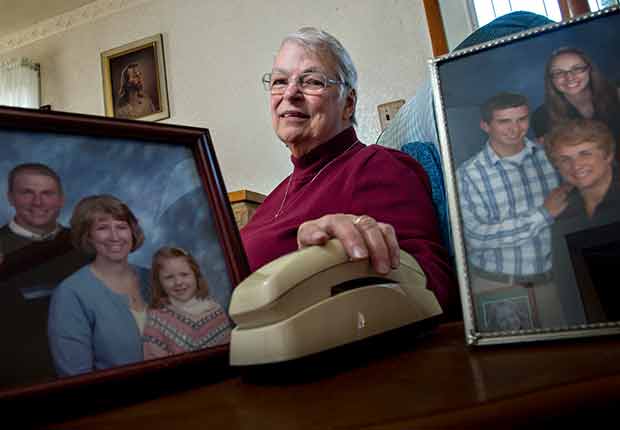 By Hilary Appelman

As secretary-treasurer of the Windfall United Methodist Church Memorial Fund, the Gideons Auxiliary and the Windfall Grange, Marjorie Pratt makes a lot of phone calls—whether to line up contributions for Grange pancake and dairy suppers, to let parishioners know that church services have been canceled or to check in on friends.

"It's absolutely vital," the retired postal clerk said about her landline phone. "We have no other means of communication."

Pratt, 77, said the closest place she can get cellphone reception in the rolling hills around her is 10 minutes away in Troy—not a viable option for necessary calls.

Quirks of geography and terrain mean that thousands of Pennsylvanians still depend on landlines for telephone service, even while the great majority of Americans have access to cellular networks.

Because the distance between customers makes rural telephone lines more expensive to install and maintain, rural carriers have been supported since 1999 by Pennsylvania's Universal Service Fund. The $34 million fund provides support to 32 rural carriers to keep landline phone service affordable for rural customers.

"Without that support, rates for basic voice service could be higher, maybe much higher, than in urban areas," said Joseph Witmer, counsel to the chairman of the state's Public Utility Commission (PUC).

The state's approximately 250 telecommunications providers pay into the fund based on a percentage of monthly revenues.

Preserving the fund until at least 2022 is a key legislative priority for AARP Pennsylvania.
"Particularly for seniors, this is just essential," said Sonny Popowsky, a former state consumer advocate and member of the AARP Pennsylvania Executive Council.

A 2013 AARP survey found that 97 percent of Pennsylvania residents 50 and older had landlines. While 81 percent statewide said they could also get cell service, 22 percent of those in rural areas said it was not dependable or available.

Telecom firms opposed
Popowsky, 65, of Philadelphia, said the fund benefits not only people who live in rural areas and need landlines for essential services such as calling 911 or a doctor, but also everyone else who uses telephones. "The more people we have on the network, the more valuable it is to all of us," he said.

The state's large telecom companies argue that the fund is an unfair expense to customers in other parts of the state and, in many places, is no longer needed to keep rates down.

"For the existing fund to be used efficiently, it's important to determine if there actually are circumstances where competition is not providing sufficient service options—a finding that has never been made for the current fund—and if a state response is deemed necessary, to keep it narrowly focused," said Verizon spokesman John O'Malley. He added that Verizon is working with advocates such as AARP to hammer out a compromise.

Rural landline costs are also subsidized by a federal fund, collected via a monthly telephone surcharge. But Steve Samara, president of the Pennsylvania Telephone Association, which represents the state's rural carriers, said the federal focus is shifting to expanding broadband service, which could significantly reduce the subsidy to local carriers.

If the state fund disappeared as well, monthly basic fees could end up significantly higher than what some customers are currently paying, Samara said.

"We're talking about people who would lose their service altogether," Popowsky said. "These are not just matters of convenience."

More than half of those surveyed by AARP said they were concerned about being able to afford the cost of their telephone service.

In addition to continuing the subsidy, AARP Pennsylvania wants the PUC to investigate whether wireless companies should also pay into the fund. Reliable cell and other alternative services may eventually cover the whole state, and the fund may not be needed, Popowsky said. But he noted, "We're not there yet."
Hilary Appelman is a writer living in State College, Pa.