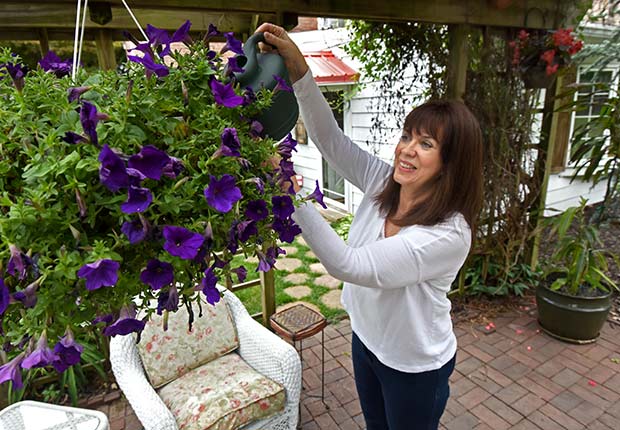 By Hilary Appelman

Sonya Kasper lives primarily on the Social Security payments she has received since her husband died seven years ago—a little more than $1,000 a month. Until recently, she spent more than $300 each month on health insurance.

After Kasper moved last fall from Michigan to Reiffton, outside Reading, she learned she qualified for the state's newly expanded Medicaid program and would no longer have to pay for health insurance coverage.

"It's such a relief," said Kasper, 64, who worked part time as a hairdresser and will qualify for Medicare next year.

The state's Medicaid expansion, which took effect Jan. 1, made about 500,000 residents earning up to $16,243 eligible for the first time. Previously, only adults with disabilities, pregnant women, children, and parents and people over 65 with very low incomes were eligible.

As Medicaid marks its 50th anniversary this month, more than 352,000 Pennsylvanians have enrolled in the expanded program so far. "Hundreds of thousands who were shut out under the old plan can now get coverage," said Antoinette Kraus, director of the Pennsylvania Health Access Network, a coalition of health care advocates.

Help before Medicare
Many of those newly qualified have low-wage jobs or receive unemployment benefits. And many are older workers, said Ray Landis, advocacy manager for AARP Pennsylvania.

"This is a huge issue for the 50-to-64 population," Landis said. "When those folks lose a job that has health care benefits, often they have trouble getting another job—and especially a job with benefits."

Kasper had been enrolled in Healthy Pennsylvania (Healthy PA), the Medicaid alternative created by former Gov. Tom Corbett (R).

Expanded eligibility was delayed for a year while Corbett negotiated the alternative program with federal health officials. His plan would have required people with incomes above the poverty level to pay premiums starting in 2016.

Gov. Tom Wolf (D) campaigned last year on a promise to implement a traditional expansion of Medicaid without premiums. Since January, his administration has been transitioning to HealthChoices in a process due to be completed by September.

"There's a lot to be unraveled," said Kristen Dama, staff attorney at Community Legal Services of Philadelphia. Under Healthy PA, many people couldn't get the care they needed, she said. "We were flooded with calls and questions from clients who were struggling to get benefits."

The complicated application process for Healthy PA resulted in some people being rejected for coverage who should not have been, Kraus said. Those who were denied coverage can reapply to HealthChoices (for help, call 877-570-3642).

Pennsylvania was an early adopter of managed care for Medicaid beneficiaries, and the vast majority of Medicaid recipients in the state receive coverage through managed care organizations. Some benefits, such as addiction treatment and optometry, aren't covered by other states. "Our Medicaid system has generally been generous in terms of what it covers," Dama said.

But for many recipients, finding doctors who will accept them can be a challenge. Like the rest of the nation, Pennsylvania faces a shortage of primary care providers, and Medicaid's relatively low reimbursement rates may make finding a provider more difficult.

The state is also looking to improve Medicaid by expanding home- and community-based services that allow residents to age at home. Last year, AARP ranked Pennsylvania 37th in terms of the percentage of Medicaid long-term care dollars allotted for those services.

Qualifying for them requires a lengthy review process that's too long for many families, said Diane Menio, director of the Philadelphia-based Center for Advocacy for the Rights and Interests of the Elderly.
Spending on home-based services has gradually increased, and Wolf has proposed doubling the number of people who receive home-based care.

That's an encouraging sign, said Menio, "but it's not going to be a quick fix."

Hilary Appelman is a writer living in State College, Pa.