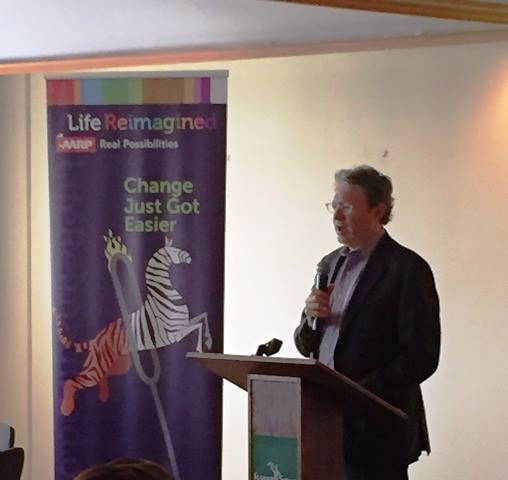 An evolution is occurring that will one day affect you and your family: Older adults are breaking stereotypes, and are redefining life, career and retirement in the second half of their lives.

Marc Freedman has coined a term for this emerging social transformation: the encore movement.

On Tuesday, Feb. 24, Freedman, founder and CEO of Encore.org, spoke to Tampa Bay community members about the importance of embracing the Encore movement to better our communities at an AARP-sponsored event.

"We are in the midst of a massive redefinition of aging, where 60 is the new 60," said Freedman.

With nearly 9 million people engaged in encore careers, Freedman stressed the importance of realizing and appreciating the leadership and innovation in older adults.

"We have the benefits of experience and the time to do something with it," said Freedman. "The world might be done with us, but we're not done with the world."

An encore career can mean many things for different people. For some it means paid, part-time work, related to a social mission, and for others, it might involve volunteer work, opening a new business or focusing on a hobby. However, for most, an encore career means finding and pursuing "What's Next?" in life.

AARP has been helping people discover their "What's Next?" since 2013 with Life Reimagined. Life Reimagined is a powerful step-by-step approach designed to help individuals examine where they are in life, determine where they want to be and learn how they can better prepare to get there. Life Reimagined helps individuals discover real possibilities, embrace change and make dreams into realities.

"As Americans continue to live longer, work longer and look for more, Life Reimagined is able to create real opportunities by helping individuals focus on what steps are most important in achieving their goals," said Jeff Johnson, AARP Florida's state director. "We understand that no one size fits all. Life Reimagined provides inspiration and information that is personal to each individual."

Life Reimagined helps people focus on navigating transition moments and reaching their goals, by connecting them with tools and resources that assist in taking those small steps to rediscovery. Life Reimagined opens a network of opportunities by connecting individuals with a community of people pursuing similar passions and goals.

More than 500,000 Hillsborough and Pinellas County residents are over the age of 50, many of whom are seeking encore opportunities and are looking for "What's Next?" in life.

Johnson urged Tampa Bay residents 50-plus to get involved in the Encore movement. By creating age-friendly communities and helping people discover their Life Reimagined, AARP and older residents, working together, can improve local neighborhoods and create real possibilities for people of all ages, he said.
"To go fast, go alone," said Johnson. "To go far, we must go together."

For more information and to find a Life Reimagined check-up near you, visit us at www.aarp.org/tampabay. Join in on the conversation by following us on Twitter at @AARPTampaBay, and stay up-to-date with the latest news and information by signing up for our email updates.