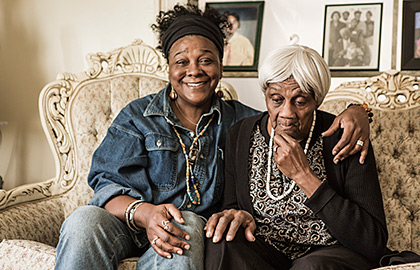 By Greg Saitz • When an increasing number of physical ailments left Donna Kirkland's parents unable to care for themselves about four years ago, she and her six siblings had a choice: Place their parents in a nursing home or share caregiving duties so they could remain in their home.

For Kirkland, 59, of Newark, "it was a no-brainer. My parents gave so much to us and our kids."

She spent many months as a live-in caregiver for her parents, who had multiple medical issues.

Her father had rheumatoid arthritis, underwent seven angioplasty procedures and required dialysis. And her mother, now 83, was losing her eyesight, and she was diagnosed with Alzheimer's disease and bladder cancer.

One brother lived with their parents, and a sister stayed with them for two years before Kirkland returned late last year. Her father died in his home in January at 87.

With so many siblings to help with caregiving, the Kirklands had a built-in relief system that meant no one became overwhelmed.

A place to start

Not every caregiver in New Jersey is as fortunate, but there are resources to help with what often is an overwhelming and stressful time. Caregivers can start by contacting the Area Agencies on Aging (AAA), which operate in each of the state's 21 counties.

Services such as home-delivered meals and light housekeeping are provided at no charge by the AAAs, which can offer referrals for other fee-based services such as visiting nurses and transportation to medical appointments.

Caregivers in some counties also can turn to community groups formed to address their needs.

For example, the United Way Caregivers Coalition in Morris, Essex, Somerset, Warren and Sussex counties is composed of elder care attorneys, mental health providers and other professionals who can provide information, education, support and advocacy.

"One of the first things we hear from caregivers is the need for information," said Carol DeGraw, of Paterson, one of the coalition's founders.

The group publishes a free guide, " Pathways for Caregivers," available online or by calling 973-993-1160, ext. 139.

In addition, the online AARP Caregiving Resource Center has a locator to help find nursing homes, assisted living facilities, home health services, hospice and adult day care by ZIP codes.

The website also has tips and a tool for submitting questions—such as concerns about how to pay for care or navigating the transition from home to a nursing facility—that are answered by experts.

Aid for unpaid caregivers

To help ease the burden on family caregivers, AARP New Jersey supports proposed state legislation that would provide qualified caregivers a tax credit of up to $675 for couples with incomes of up to $100,000 or individuals with incomes up to $50,000.

The Caregiver's Assistance Act is under consideration by the Assembly and Senate.

"Caregivers are a critical component of our health care system, yet they are becoming increasingly squeezed financially," said Evelyn Liebman, AARP New Jersey associate state director for advocacy.

More than 1.7 million people in the Garden State—much like the Kirklands—provided unpaid caregiving in 2009, according to the AARP Public Policy Institute, which placed the value of that help at $13.2 billion.

"We must do a better job of supporting family caregivers. Without them, our health care system couldn't possibly meet the needs of our loved ones," Liebman said.

Greg Saitz is a writer living in Madison, N.J.