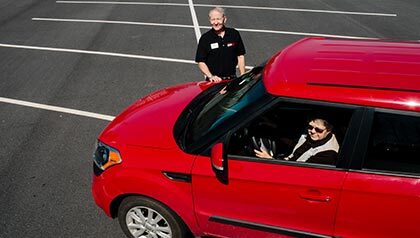 Roger McAlpin, state coordinator for AARP Driver Safety, has led more than 70 classes, teaching new techniques and reviewing some of the oldies with students who have been driving for 40, 50 or 60 years.

As part of his approach, McAlpin, 68, asks his students in the north Georgia towns of Blairsville and Blue Ridge to think back to the first car they drove, how the roads were then and what their mind-set was behind the wheel.
Then McAlpin asks them to compare those memories to how things are today.
"I always hear about dirt and gravel roads, cars that all were stick shifts, no power brakes and stuff like that. They almost all talk about how they are slower, more cautious and pay more attention to other drivers now than they used to."
Classes review basic safety strategies, such as scanning the road ahead and staying aware of how alcohol and medication can affect a driver's reaction time.
Last year, 21,380 participants took an AARP Driver Safety program in Georgia. That included more than 17,600 who took it in a classroom, nearly 3,300 who took it online, and almost 500 who took their cars for a CarFit one-on-one assessment to make sure the car's settingblairsvilles are properly adjusted to the driver.
New things to learn
McAlpin said attendees usually come out of the programs having learned at least two new things: how to set their mirrors correctly and how much distance to leave between vehicles.
"We teach them how to adjust their side mirrors in a way that eliminates all but about 6 to 12 inches of a blind spot," McAlpin said. "Commonly, mirrors are adjusted so that the driver can see the side of their own car. When you adjust it to where you can't see the side of your car at all unless you are leaning against the window, and then you can only see a small part of it, you can eliminate the blind spot."
McAlpin sometimes demonstrates that to drivers by walking several lengths behind the car and asking the person in the driver's seat to yell when they lose sight of him in the side-view mirror.
"The difference is a matter of about 3 feet" of additional visibility, he said.
While most drivers stick to the adage of staying one car length back for every 10 mph they are going, McAlpin said the "three-second rule" is now the recommended formula. Simply stated, it means that if the car in front of you passes a sign, it should take you at least three seconds to reach the same point.
"I found it all to be so helpful and interesting," said Arlene Mashburn, 76, of Blairsville. "I learned that my head should be 3 inches above the top of the steering wheel, and the air bag 10 to 12 inches from my chest. But the mirror thing really was interesting. It made a big change."
Insurance discounts
Mashburn recently bought a new car and was told by her insurance agent that she could save money on her car insurance premium by taking a driver safety course.
About three dozen states require insurance companies to give discounts to those who have completed a driver safety program. In Georgia, the discount is up to 10 percent and is good for three years but can be extended by taking a refresher course.
"It was well worth it, and Mr. McAlpin was a wonderful teacher," Mashburn said. "I've been driving since I was 12 years old growing up in the country in Michigan."
AARP Driver Safety classes are open to drivers of any age but are geared to those 50 and older.
"I teach about eight classes a year and want to get to 100," McAlpin said, referring to an elite group of driver safety instructors who are part of the Century Club of those who have taught 100 or more classes. "That's my goal, at least."
Classroom courses cost $12 for AARP members, $14 for nonmembers. Online classes are $15.95 for members, $19.95 for nonmembers.
To find a course near you, go online or call 888-227-7669 toll-free.
—By Bill Sanders