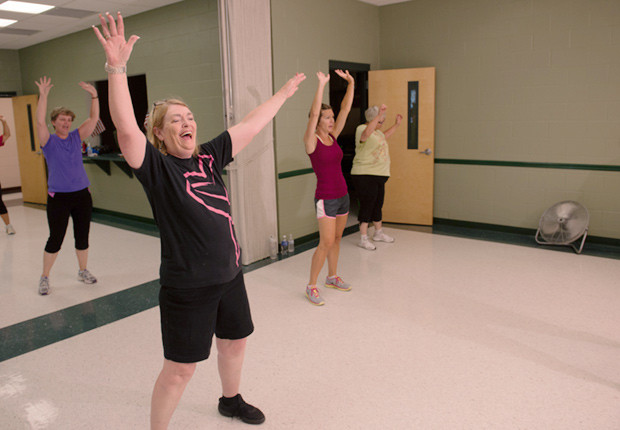 By Holly Fisher

Four years ago, Lois DeMarino retired from a 20-year career as a postal clerk in Columbia to care for her ailing mother. Two weeks after her retirement, DeMarino's mother passed away from lung disease.

That quickly, DeMarino's plans changed. "I'm not working—what am I going to do with the rest of my life?"

She started volunteering with Make-A-Wish, visiting ill children in their homes to learn their wishes. That spurred DeMarino to take on more activities and challenges. She joined Weight Watchers and lost 41 pounds. She took up Zumba and tap dancing classes.

DeMarino's experience navigating a new phase of life is at the core of an AARP program, Life Reimagined, that helps people determine those next steps. They may be facing retirement or job loss, or simply have a desire to make a change in their life.

AARP South Carolina began offering the free 90-minute Life Reimagined course in January. De­Marino, 64, was already volunteering for AARP when she heard a presentation about the program. She said she was inspired by the idea of setting goals and determining how to pursue them.

Reinventing yourself

Now DeMarino, who lives in Irmo, near Columbia, is a Life Reimagined facilitator, leading others through the class and helping them discover new possibilities.

"I want to keep going and I'm trying to reinvent myself—that's what I'm trying to relay to the people who come to the classes," DeMarino said. "What is it you want to do with your life? It's very easy to become a couch potato."

Doris Gleason, AARP South Carolina director of community outreach, works with more than a dozen trained facilitators around the state to lead Life Reimagined courses.

As she attended a Life Reimagined program, Gleason—who turns 58 this month—discovered that she, too, needed to move forward in her own life.

"I realized as I was sitting there, I was really kind of stuck," she said. "I lost my husband to cancer eight years ago. I'd lost both my parents in the last three years. I'd been feeling kind of off."

The program's self-reflection exercises helped Gleason become more aware of her own situation. "When I came out of there, I really wanted to teach the class. It validated what I was feeling and why."

The class—called a "checkup"—walks participants through a series of questions to help them think about plateaus in their lives and what's most important to them. It then gives participants the opportunity to set some goals.

People who have taken the course have set goals for, among other things, volunteering, completing a college degree, traveling or simply getting involved in more social activities, Gleason said.

"It's the opportunity to discover new possibilities," she said. "You don't have to decide you want to be an astronaut, but it can be small changes. You look at where you are now, what you've done thus far and what you want to do with the rest of your life."

To become a Life Reimagined volunteer, contact Gleason at 866-389-5655 toll-free.

Volunteers are needed around the state, particularly in Hilton Head, Bluffton and Beaufort. They go through a Life Reimagined course and all materials are provided.

For a schedule of upcoming classes, visit aarp.org/sc.
Holly Fisher is a writer living in Charleston, S.C.