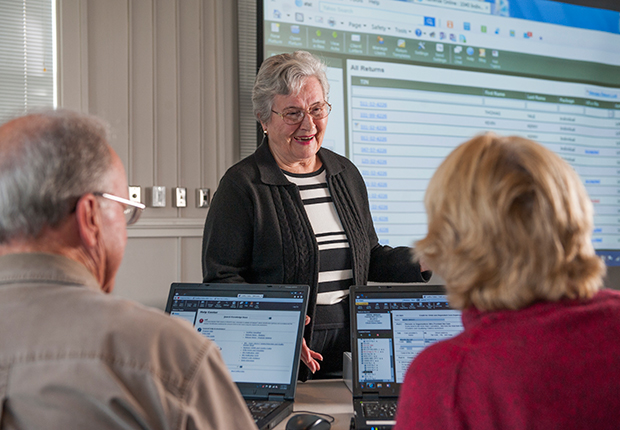 By Holly Fisher

The first year Leonora Myers volunteered with the AARP Foundation Tax-Aide program, she and the other volunteers used pencils, paper forms with carbon paper, and handheld calculators. More than 25 years later, a lot has changed.

This year, Myers is overseeing the volunteers in Aiken, who prepare tax returns using computers and online filing software. The Tax-Aide service is offered free to taxpayers.

Myers, 81, a CPA, connected with Tax-Aide in 1990, putting her love of numbers to use helping others.

As a local coordinator, Myers orders the necessary supplies from AARP Foundation and the IRS. Her husband, Lynn, 80, sets up the computers and printers.

Myers also helps recruit volunteers to the program. She'll oversee about 20 of them this year, ensuring everyone has gone through the appropriate software and IRS training and is up to speed on changes to the tax law and available tax credits.

Volunteers like Myers are critical to the Tax-Aide program, which helped more than 24,000 people in South Carolina in 2015.

Established by four volunteers in 1968, Tax-Aide now has more than 35,000 volunteers at roughly 5,000 sites nationwide and serves about 2.6 million taxpayers annually. Tax-Aide is open to anyone, regardless of age or income, even non-AARP members, though it gives special attention to low- and moderate-income people 50 and older.

This year, there are 45 Tax-Aide sites in South Carolina at places such as libraries and senior centers. Almost 470 volunteers make appointments, assist with technology, greet people as they arrive and prepare tax returns, said Jody Jackson, 75, of Florence, the state coordinator.

Having a background in accounting or finance isn't necessary, Jackson said. Volunteers simply need to have computer skills and an email address, plus a willingness to help others. "If they can use the computer, we can train them to do the taxes," she said.

People interested in becoming a volunteer should register online at aarp.org/taxaide or call 888-687-2277 toll-free. Volunteer tax preparers will receive materials in the fall and participate in IRS-certified training in January 2017.

Where to go, what to bring
South Carolina's Tax-Aide sites are open at least four hours a day, with some having Saturday hours. Some sites take appointments and offer special services, such as bilingual assistance or help for those who are hearing-impaired. Volunteers generally try to keep appointments to one hour. Returns are filed electronically.

Go to aarp.org/findtaxhelp to search for the nearest site and get more information about individual site offerings and hours, or call 888-227-7669 toll-free.
Those seeking tax assistance should bring to their
appointments:

Last year's tax returns, a photo ID for each filer and Social Security cards (or other official documentation) for everyone on the return, including children.
All income information, including W-2 forms; unemployment compensation statements; and 1099 forms for miscellaneous income, Social Security benefits, pensions, annuities, interest income and dividends.
Health insurance 1095 forms, if applicable.
All forms indicating federal income tax paid.
All receipts or canceled checks if itemizing deductions.
Checkbook or bank routing and account numbers if you want direct deposit for refunds.
For a complete list of documents, go to aarp.org/taxdocs. To locate a Tax-Aide site, go to aarp.org/findtaxhelp or call 888-227-7669 toll-free.

Taxpayers will be asked about their health insurance in 2015, so they should also bring documentation of coverage, such as Form 1095-A. Those who opted not to obtain coverage and are not eligible for an exemption will pay a fee.

Jackson, who is volunteering for the 11th year, said she's a natural caregiver, so helping others and coordinating volunteers is well within her abilities and interests.

"We're giving back to the community, and that's what's important," Jackson said. "We need to keep this program going."

Holly Fisher is a writer living in Charleston, S.C.