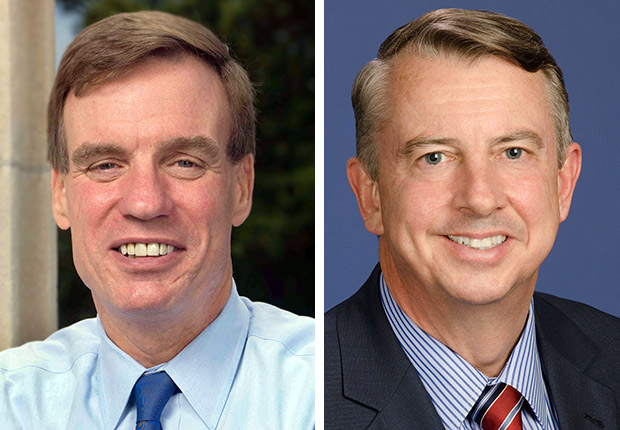 By Tamara Lytle

Sen. Mark Warner, a Democrat, and the man who wants his job, Republican Ed Gillespie, offer differing views on a variety of issues important to older voters.

Both will be on the ballot Nov. 4 for the U.S. Senate seat that Warner won six years ago. Warner, 59, served four years as governor and was an early investor in a cellphone company that became Nextel. Gillespie, 53, has been chairman of the Republican National Committee and the Virginia GOP, a White House aide to President George W. Bush, a lobbyist and a consultant.

Warner responded by email to specific questions. Gillespie and his campaign did not respond after repeated requests. His positions were drawn from his public statements and website.

Gillespie would work to repeal the Affordable Care Act, also known as Obama­care. His website says he favors "replacing it with market-based reforms that take health care decisions out of the hands of political appointees."

Warner has proposed changes to the act, including easing reporting requirements for employers. He opposes repeal.

"The Affordable Care Act is not perfect, but we cannot return to a system that was unsustainable and would bankrupt our economy while leaving people uninsured and underinsured," Warner said.

Warner has voted against supporting a constitutional amendment to require a balanced budget. Gillespie favors the idea and says federal spending is too high.

"I will fight and vote against any efforts to increase marginal income tax rates on individuals and businesses, and oppose any net reduction or elimination of tax deductions and credits unless they are matched by equal reductions in tax rates," Gillespie says on his website.

Changes to Medicare?
Both candidates have said changes are needed in Medicare and Social Security, which have long-term financial imbalances.

Gillespie, as an adviser to presidential nominee Mitt Romney, touted the idea of raising the Medicare age to 67.

Warner led a group of Senate moderates, called the "Gang of Six," that proposed reducing deficit spending by eliminating $1 trillion in tax breaks for businesses and individuals, lowering income tax rates, and cutting entitlement and other programs.

As part of that deal, his group backed a "chained CPI"—a change in the way Social Security calculates cost-of-living adjustments that would likely mean smaller increases in the future.

Warner and Gillespie both could back a shift to a chained CPI.

Warner said he "could support a limited chained CPI" as part of a package of Social Security reforms—but only if it "did not apply to low-income individuals and … included benefit increases for our most vulnerable."

Gillespie, in an interview last year with the University of Chicago student publication The Gate, said a chained CPI "would adjust the way automatic increases in federal benefits are calculated in a way that more closely reflects economic reality, and would save taxpayers and the federal government a lot of money over time."

In 2012, he also raised the possibility of offering people under 55 different options for Medicare coverage.

AARP does not endorse candidates or give money to campaigns, but seeks to inform voters about the issues. Voters can learn more about Virginia candidates' positions in the AARP voter guide, available at aarp.org/yourvote.

A televised debate in Richmond between the Senate candidates will be held at 7 p.m. on Oct. 13. The debate, organized by AARP Virginia and the League of Women Voters, will be produced by Richmond stations WTVR (CBS) and WCVE (PBS) and distributed to broadcasters statewide.

Tamara Lytle is a writer living in Falls Church, Va.