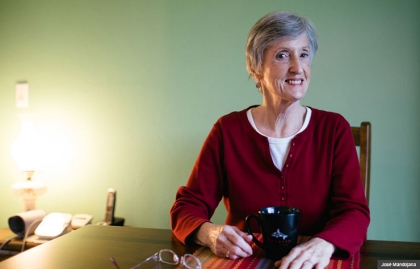 By Harris Meyer • Maggie Sweasy knows both personally and professionally why it's important to support people who provide care for aging loved ones who have physical or cognitive disabilities.

Sweasy, 69, of Puyallup, took care of her late mother-in-law, who suffered from severe dementia, and is taking care of her 83-year-old husband, who has cognitive impairment.

"All caregivers need respite care so they can have an emotional break," said Sweasy, a community activist on aging issues. "Fortunately, the state has begun to realize how much it can save by supporting caregivers, [thereby] keeping people out of nursing homes. But you worry that as times get tougher, these things will slowly be cut out of the budget."

She's urging the state to increase funding for educating caregivers and providing respite care and Meals on Wheels, while restoring funding for home care and adult day health programs. That's in line with AARP Washington's comprehensive " 2013 Washington State Aging Agenda (pdf)," which it hopes new Democratic Gov. Jay Inslee will embrace.

Reforming tax policies
By 2030, nearly 20 percent of Washington residents will be 65 or older. AARP Washington wants state officials to develop policies to support this growing population in the areas of health care, long-term care services and supports, protections for vulnerable adults, financial security, housing and transportation. A key will be reforming state tax policies to adequately fund these services.

Ingrid McDonald, AARP Washington advocacy director, said the aging agenda is intended as a "wake-up call" to state policymakers. "How do we prepare for a very different Washington, where one of five people will be 65-plus, and the 85-plus group will triple by 2060?" she said. "We have to focus now."

Inslee has agreed to an AARP Washington request to hold an aging issues summit in the first six months of his administration. He says he backs key parts of the AARP agenda.

"Not only will we have more seniors, but they will be living longer," Inslee said in a written statement to the Bulletin. "It's unquestionably in our long-term interest to prepare for that by ensuring a strong network of health services and doing all we can to help people save and prepare for retirement."

In addition to preserving robust long-term services and supports for families, McDonald said the state needs to fully implement the federal health care reform law by expanding Medicaid and creating a state health insurance exchange. That would extend affordable health care to an estimated 167,000 uninsured Washingtonians ages 50 to 64. Inslee has promised to do that.

Retirement security
McDonald said private employers need to adjust to the growing percentage of older workers, many of whom want to keep working, by offering greater job flexibility and ending age discrimination.

On retirement security, she said, "it's critical that we protect state employee pensions. Lawmakers should not skip payments to the pension fund or move future workers to defined contribution instead of defined benefit plans. The state should encourage more private employers to offer retirement savings plans to their workers." Inslee has said he's open to helping small businesses set up workplace retirement accounts.

To protect vulnerable adults, McDonald said it's vital to ensure full funding for programs safeguarding older people from physical and financial abuse, such as the Long-Term Care Ombudsman program.

During the gubernatorial campaign, Inslee suggested reducing spending on health and social services in order to increase funding for public schools and universities.

But McDonald said it's wrong to pit generations against each other.

"Every family wants quality education for their children and supportive services like Meals on Wheels for their elders. To say we should fund one at the expense of the other is a false dichotomy."

Maggie Sweasy anticipates she may eventually need respite care in taking care of her husband. "It's an honor and privilege to take care of him," she said. "But I say that knowing there will be resources to help me when things get a little tough."

Harris Meyer is a freelance writer based in Yakima, Wash.