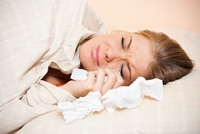 by Heather Lee Leap

I'm a crier. Throwing myself on the bed and having a good cry is one of my go-to stress relievers. It has helped me survive life as a mom to three children and as an Alzheimer's caregiver for my mom. The week before we moved mom into our home, I had one of those cries. It helped wash away some of the stress involved in the preparations, but afterward I had a new worry. I couldn't possibly cry like that with mom here. I knew it would upset her and raise her level of anxiety, which would loop around and increase my own stress.

I worry less about crying in front of my kids. Honest displays of emotion help lead to equally honest conversations about the struggles we face in life. My kids are learning that I won't hide behind a smiling face all the time, nor do I expect them to.

Crying in front of strangers? I've discovered that's easy. For me, caregiving has been a little like childbirth. There is a period during labor when self-consciousness disappears for most women. People see you naked, heaving, wailing, panting and blowing, and you couldn't care less. You're entirely too consumed by your immediate needs to worry what anyone is seeing or thinking.

There have been days as a caregiver when I've cried at appointments, care conferences and through the frustration of phone calls to doctors' offices, Aging and Disability Services, the Social Security Administration, and insurance companies. As caregivers we end up repeating the same information over and over again as we're shuffled between departments.

One of the questions that made me cry? "What services does your mother need?"

This was early on, when we'd been told only that my mom had "a little dementia," but my observations and internet research were pointing to something more severe.

"How do I know what she needs? I need someone to do some sort of assessment and tell me what she needs!" I wanted to scream. Referrals, phone calls, paperwork, waiting. I called the office of the neurologist to whom we'd been referred, hoping to finally schedule an appointment. "Oh, your mother doesn't meet the criteria to see him. Her condition is too advanced; you'll need to see someone else." I felt like a fish tossed on dry land. I gasped and flapped about, frantic.

Turns out crying on the phone and sounding desperate over voicemail messages gets folks to return your calls pretty quickly. This I discovered when sorting out a new referral from my mom's primary care provider. Not that I am proud of it, and I don't recommend, say hammering your thumb before picking up the phone, but I had to make the calls and I couldn't stop crying until something was resolved, so I did both.

Research suggests that women experiencing anxiety are likely to cry more than average and that stress hormones are excreted in tears. Tears are considered a good thing unless they start to take over your life, in which case they can be a sign of depression and a signal that it's time to seek outside support.

That was my experience. Some crying was good, but when we moved mom from my home to a care facility, it was as though some sort of valve had been released and I began to walk around in a daze and cried nearly every day. Maybe it was because I'd needed more opportunities to throw myself on the bed and ball, but instead had held back for days at a time until mom was out of the house.

And so I got some help. Yet another thing I've learned on the caregiver journey. I can't do it alone.

###
Real Women Speak shares the voices of Oregon women who are struggling, soaring, muddling through and motivated to move forward.

Inspired by Decide.Create.Share, this blog chronicles stories from lighthearted happenings to questions of fortitude. From life-altering changes to simple anecdotes, our shared narratives serve to inspire, guide, and connect us.
Every woman has a voice. AARP Oregon seeks to amplify them.
About our lead blogger: Hello, my name is Heather Lee Leap. My experience as a wife, mother, and caregiver of a family member with Alzheimer's continues to influence my work as a freelance writer. With a passion for health, wellness, and the myriad issues confronting families today, I'm pleased to join AARP Oregon and Real Women Speak to help end the silence that can isolate us as we navigate life's challenges. – See more at: https://states.aarp.org/realwomenspeak.