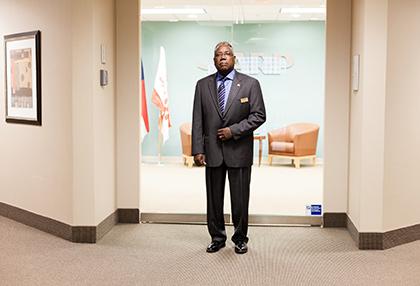 Lisa H. Towle

James Wall is well suited to discuss the Affordable Care Act (ACA),[healthlawfacts.org] a topic that will likely define his term as president of AARP North Carolina. He has a masters degree in health administration from Duke University and devoted his 35-year career to health care, serving as president and CEO of several hospitals.

"I've had the opportunity to give presentations to religious groups and civic organizations about the ACA," said Wall, 72, of Oxford.
"Our objective is to share accurate information with the various groups so they will understand how the health care law will benefit them and their families," Wall said.

He noted there is widespread misunderstanding of basic elements of the act.

"For instance, even now when I ask, 'How many have heard of the ACA?' no hands are raised. But if I say, 'Who's heard of Obamacare?' the hands shoot up. This shows we really have our work cut out for us as purveyors of objective, factual information about health care reform because the audience, for the most part, is only familiar with the negatives associated with the word 'Obamacare.' "

Wall and dozens of AARP members and staff are working with in-state volunteers from other organizations to inform consumers about the ACA.

890,000 could enroll
Oct. 1 is the start date for enrollment in private health care coverage offered through a federally run insurance marketplace.

Roughly 890,000 state residents could purchase coverage, according to the Society of Actuaries. In 2011, 300,000 North Carolinians ages 50 to 64 were uninsured, according to the AARP Public Policy Institute.

Of those, nearly 120,000 low-income residents ages 50 to 64 could have been covered if North Carolina had accepted the federal offer to expand Medicaid. "We will continue advocating for this group," said Mary Bethel, AARP North Carolina associate state director for advocacy.

AARP North Carolina is planning tele-town halls for members this month and in November, said Audrey Galloway, associate state director for community outreach. The calls will focus on how the ACA might affect members and their families and where to find assistance in navigating the marketplace.

Pam Silberman, president and CEO of the North Carolina Institute of Medicine, a state agency, said, "People are feeling stressed, overwhelmed, worried, confused and hopeless when asked about trying to purchase health insurance."


Discrimination prohibited
Specifics can help allay fears. People who have insurance that meets the law's requirements are being reassured they can keep what they have and that the new law limits increases in premiums. They're also being told that as a result of health insurance reform insurers won't be able to deny coverage or increase rates because of an applicant's preexisting health condition, gender or occupation.

The marketplace will provide standardized information—including benefits and costs—to help consumers and small businesses choose among qualified health plans and determine their eligibility for subsidies. For example, single people with no dependents who earn up to about $46,000 and a family of four with an income of up to about $94,000 could be eligible.

The plans offered through the exchange must cover basic health care such as doctor visits, hospital stays and prescription drugs. They can't charge a copayment for preventive care such as mammograms, Pap smears and blood pressure or cancer screenings.

The ACA also eliminates most annual and lifetime coverage caps. Adult children are able to stay on their parents' insurance until age 26.
Older people who buy private insurance before they are eligible for Medicare at 65 can't be charged more than three times the rate of younger customers' premiums.

For those covered by Medicare, the ACA gradually closes the "doughnut hole" in Medicare Part D prescription drug coverage.

During the summer, insurance companies submitted proposals to each state's marketplace. In North Carolina, the plans and prices will be determined this month. Some insurers are likely to offer plans statewide; others may offer plans only regionally.Coverage will begin Jan. 1 for those who enroll by Dec. 15. For later enrollees, coverage will begin about a month after they sign up.

The ACA requires almost all Americans to have health insurance beginning next year or pay a penalty of at least $95 on their federal tax return.

To learn more about how the Affordable Care Act affects you, go to healthlawanswers.org.
Lisa H. Towle is head of Liskar Communications and a freelance writer based in Cary, N.C.