Since the start of the pandemic, nearly 95% of COVID-19 deaths have been among people 50 and older. While some caregivers and the loved ones they care for choose to get vaccinated, finding the vaccine has not been easy. In addition to access to the vaccine, people in communities of color face other barriers like distrust in the vaccine.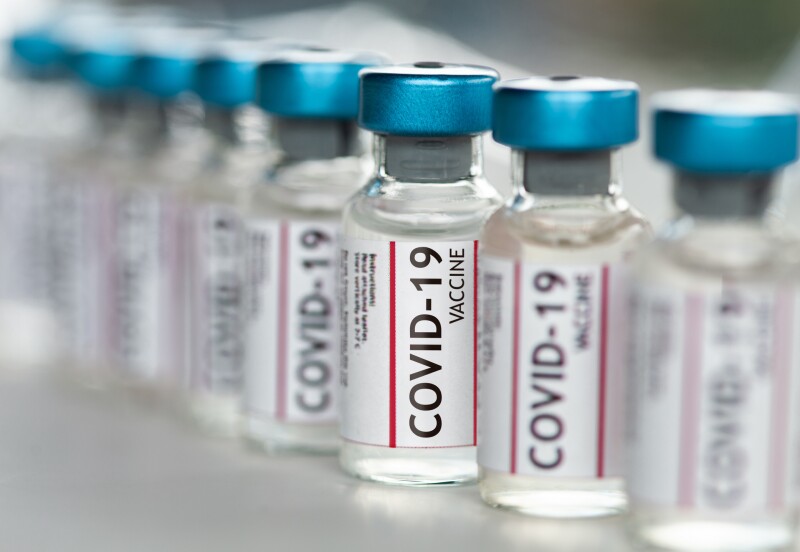 AARP Regional Vice President Rawle Andrews Jr. and Dr. Antonio Webb joined Prepare to Care Podcast host Charlene Hunter James to talk about the challenges people of color face regarding the vaccine.

Charlene Hunter James: Mr. Andrews, please explain to our listeners what health disparities are and why it is important to discuss them?

Rawle Andrews Jr.: What health disparities really speak to are the differences in health, health conditions, health access, and health care among various groups, and they can cut across many dimensions like race, ethnicity, gender, geographic location, disability status, and even age. We often see an epiphany or aha moment when it comes to disparities like it just happened overnight.

Because of the disproportionate adverse impacts that people in communities of color, particularly black and brown people, have faced because of COVID-19, everybody says aha, there are disparities. It doesn't make sense that some populations get sick or are asymptomatic and get well. Then in other populations (communities of color), they will be more likely to be hospitalized if they get sick. The more likely they are hospitalized, the more likely they may not be discharged.


All of these are cross-cutting issues, but they are getting in the way of keeping us together so we can get a hold of this virus and get on with our lives.

Charlene Hunter James: Dr. Webb, let's talk about distrust in the vaccine within the African American community. Why isn't science enough to convince some members of this community to get vaccinated?

Dr. Antonio Webb: This stems far back from this pandemic. It goes way back to the 1800s where there were unauthorized sterilizations of women of color just because they didn't think women who were African American had the same pain level or pain tolerance as other races. Fast-forward to the 1930s and the Tuskegee trials where there were African American men untreated for Syphilis to see what that disease process would be if left untreated. So, this distrust in our medical system goes far back to those times. There are a lot of other things that go into it, in terms of the government. There is a lot of misconception, a lot of misinformation out there. In terms of the COVID vaccine, there are a lot of African Americans who are unwilling to receive the vaccine. Many studies and reports have come out saying that African Americans would not receive the vaccine, and that's a big issue.

Charlene Hunter James: What role do doctors and other healthcare professionals play in getting people in the African American community vaccinated?

Dr. Antonio Webb: They play a large role. Several studies have also looked at African Americans and their willingness to receive the vaccine and receive general treatment advice and recommendations. Those numbers increase if the physician is of the same skin color or someone they can relate to. I think the treating physician who looks like the patient is really important.

As physicians, our job is to understand the material, everything about the vaccine, and the disease process and then impart this knowledge to their patients. We should also ease the fear in patients. There are also a lot of patients who are hesitant about receiving the vaccine. On the front lines, I think we should educate our patients so they can make the best-informed decision as to whether or not to receive the vaccine.

My job is not to tell you to receive the vaccine; it's to lay everything out for you to make that decision. Hopefully, it's the right one (decision) for you and your family.

Charlene Hunter James: Rawle, we know community education is so important, and organizations have a role as well. Tell us about this educational component when it comes to getting the COVID vaccine.

Rawle Andrews Jr.: As much as we'd like to say that the door to Dr. Webb's office is standing room only, in many instances, that may be the last place to come even in a public health crisis. We have to work in and around and with communities, so we're talking to people who are in a position of trust. That could be someone in the faith community, someone in the civic community. Even though people are not going to the barber and beauty shop frequently during this pandemic, some of these businesses are open, and there are conversations occurring about these issues. So, the public square sometimes looks different in communities of color, and we have to be able to tough those folks who can touch thousands of folks so that they hear from them themselves.

There are some who say you are not going to science your way out of this in communities of color. That's probably true. I heard more recently that people are not even looking to their role models who publicly show that they are getting their vaccine. These role models are keeping a journal about what's happening. I endorse Dr. Webb's view. Be informed so that when you make a decision, it is an educated decision about what's best for you and your family.

I can tell you from personal experience that if we don't get in a position where we get enough people vaccinated, we will stay in this prolonged position of isolation. So, if you're tired of being quarantined, one of the best ways to get out of quarantine, get those babies back in school, and if you want to open the academy, is to get vaccinated. If we don't get vaccinated, it will be impossible to do that and keep it going.

Charlene Hunter James: Dr. Webb, do you have any last bit of advice or tips regarding this topic you would like to share with our audience?

Dr. Antonio Webb: Whenever I am providing a recommendation for a patient or recommending any particular medication, or treatment, or surgery, I always look at the potential risks of that particular recommendation. I do the same thing for the vaccine. I received the vaccine about three weeks ago; I am receiving the second dose this weekend. I looked at each trial that was out about the vaccine. I wanted to make sure these were high-level studies, and they are. They are level one studies. They are randomized. They are double-blinded. So far, they have good results. That is what I used to make my decision.

You have to look at the risks and benefits. No one has died from the COVID vaccine, but people have died from getting the infection. There are some minor side effects that most people get when they receive a vaccine. I think the risk of contracting COVID-19 and taking that gamble of how your body responds to it. Some healthy patients get COVID-19 and end up on ventilators or dying. I wouldn't want to take that risk of how your body will respond. The chance of you ending up on a ventilator or dying from this disease is far greater, especially in the African American community. For me, the risk was far greater, which is why I decided to get the vaccine, and I hope everyone else does also.

Charlene Hunger James: Rawle, before we leave, tell us what are some actionable solutions to reduce the disproportionate impact of COVID-19 on communities of color?

Rawle Andrews Jr.: Obviously, you start with the three w's you've been hearing about for almost a year now. We have to wash our hands more often than we norally do. We have to mask up. We have to wear a mask, and then we have to watch our physical distancing, but I think there are other things we can do that are actionable.

There are many cultures we know of, Charlene, who do not wear their shoes indoors. Maybe we have to get to that opportunity of cultural humility and start checking shoes at the door, so we don't bring bacteria and other impurities when we've been out.

When the pandemic first hit, as Dr. Webb probably recalls, people were smart in taking their clothes off when they had been in public spaces and washing them more often, and quarantining them. As we've gotten quarantine fatigue, we come in, and we may or may not remove our clothes. We're not quarantining our clothing, so it's all getting mashed up together.

In terms of vitamin D, vitamin C, and Zinc intake, you need to be in touch with your health professional. If you could increase your vitamin D, C, and Zinc through your regular diet, there are proof points out there that tell us it does strengthen your immune system, so we are able to fend off the virus if it comes.

I want to start where I ended and end where I started; those main three Ws are as important in January of 2021 as they were in March of 2020. So, please wash your hands. Please wear a mask, and please watch your distance.

For more information on the vaccine distribution in Texas, go to aarp.org/txvaccine. You can access the same information in Spanish at aarp.org/vacunatx. You can listen to earlier episodes of our Prepare to Care Podcast on iTunes, SoundCloud, or at www.aarp.org/houstonptc.