By Katie Dudley

Nicolás Quezada doesn't have a lot of spare time. That's how he likes it.

"I will not allow 30 minutes to be wasted," he says. "If I'm not physically doing something, I'm thinking about it, planning, researching, or discussing it."

Nicolás has been an AARP member for 15 years and an active volunteer for four. He currently serves as a congressional delegate or liaison between AARP and politicians in the Rio Grande Valley.

"I've always been involved in causes I believe in, and I think it's good to spend my spare time offering my services," he says.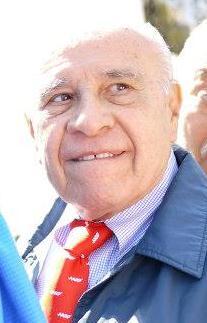 In addition to his work with AARP, Nicolás spends his time as a translator for the Social Security Appeals Council and as a representative for the Childhood Development Association, administering tests and conducting interviews to certify individuals who want to work with children five years old and younger.

Nicolás grew up in Monterrey, Mexico, and moved to the United States when he was 18 years old. He learned English while serving in the military from 1955 to 1957. Afterwards he sought out what he says was the most affordable university he could find--and attended Pan American College, which is now the University of Texas-Pan American.

True to his hard working nature, he put in the time to polish his reading and writing skills in order to succeed. He earned a degree in social work in 1962 and worked as a caseworker for the Texas Department of Public Welfare and then as a counselor for the Texas Rehabilitation Commission.

In 1969, he was presented the opportunity to help others who lacked those same basic skills. The National Institute of Mental Health had discovered a growing trend in towns around the border—children age four and five often repeated the first grade. Nicolás was asked to be a part of a team put together by the University to Texas to create a curriculum that addressed this issue. The curriculum they incorporated was adopted nationwide. It worked with parents to prepare children for school and set them up for success.

"When I read the requirements, I was excited about getting new experiences," he says. But another deciding factor was that his wife was pregnant with their first child. "I thought, I'll learn parenting skills and be able to test the curriculum on my new son or daughter."

His efforts were successful both professionally and personally. His daughter is a Harvard graduate with a master's in public policy, and his son was accepted to Princeton, Stanford, Harvard, and Rice before deciding on a degree in political science from Yale.

Nicolás strongly believes both parents and teachers need to be involved if children are to succeed. He worked hard to ensure this happened by training parents and teachers on new curriculum as well as volunteering his time to the local school board. During his nine years as a member of the school board in McAllen, he helped bring many reforms to the district.

"When I started, only 48 percent of the students were passing the standardized tests. We pushed and pushed and pushed and pushed and in three to four years that number was close to 90 percent," he recalls. According to Nicolás, their success was largely due to finding and using all available resources the state had to offer.

The district became the envy and role model for the surrounding areas and in 2000, Nicolás was named School Board Member of the Year by the Texas Classroom Teachers Association.

The skills Nicolás learned throughout his time working toward improvements in education make him a great asset to AARP as well.

"When working for change, you need to be well-prepared, ready to debate, and ready to defend it," he says.

As for his work with AARP during the current legislative session he says, "So far so good, but the debate continues."



Throughout April, we're profiling some people that you need to meet in honor of National Volunteer Month. Have you met these folks yet?