By Matthew Chang

With spring underway, Texas weather has taken a turn for the better. The green is returning to the trees, the harsh winds have calmed to a gentle breeze and families all over Texas are bringing out the grill for some sweet barbecue. Life is enjoyable outside once again, and yet there is a problem. For some, a day outside is often a day at risk.

For all it has going for it, Texas lags behind when it comes to the quality of its roads. It's not just the concrete or the paint that's the concern; it is the lack of sidewalks for pedestrians and lack of bike lanes for cyclists. In Texas, the car, or perhaps the pick-up truck, is king and the pedestrian, cyclist and transit user is often forgotten.

The problem has reared its ugly head in news reports about hit-and-run accidents. A 60-year-old man dragged 250 feet in a hit-and-run in San Antonio. A 73-year-old Houston woman killed by a tow truck while walking down a sidewalk. And in 2011, Transportation for America ranked Dallas-Fort Worth as the tenth deadliest large metropolitan area in the U.S.

Not every pedestrian fatality rests solely on the shoulders of poor road quality; some are the result of drunk driving and jaywalking. But even jaywalking can be caused by poorly designed crosswalks and that doesn't change the fact that many areas in Texas simply lack sidewalks. On one Dallas road, the lack of sidewalks forces seniors from the nearby senior living apartment heading to the bus stop or to buy groceries to go against oncoming traffic on the road itself, hoping to be seen and not hit.

If there is one group of people who are at a higher risk than most, it is older Texans. To seniors, sidewalks and bike lanes are not only desirable but necessary for two points: safety and mobility.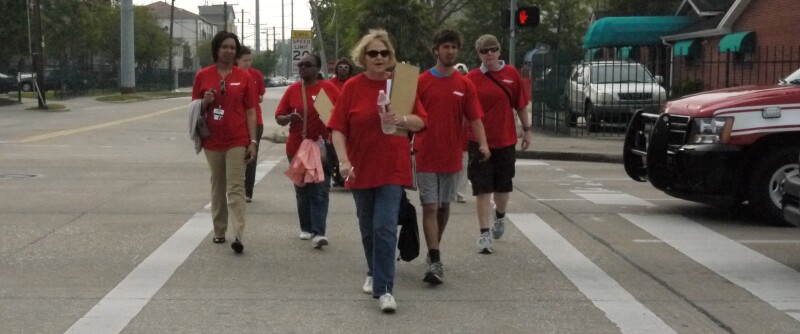 According to the Centers for Disease Control and Prevention, pedestrians ages 65 and older accounted for 18 percent of all pedestrian deaths and 10 percent of all injuries, putting seniors at the highest risk of injury and death. The cause of all these injuries? More than 92 percent of nonfatal accidents are caused by curbs, where seniors fall and then are hit by a motor vehicle. While crossing a road may seem simple for some, assessing the speed of cars, the time it would take to cross the road and the ability to react to unplanned problems can be more difficult for older Texans.

Mobility is the other issue. The number of Texas seniors will increase by more than 70 percent by 2025. As the population ages, more and more Texans are looking into other transportation options, but their choices are often limited. Too often, the streets are inadequate and the bike lanes are unsafe or simply not there. Without safe sidewalks and bike lanes, older Texans find their mobility cut short, leading to limited independence, higher health risks and increased isolation.

In a city with Complete Streets, people of all ages and levels of mobility can get to where they want to go safely. Commuters could cycle to work, alleviating traffic congestion while others running errands like going to the post office or going to the local market could walk there, improving health. Complete streets would also be a boon for business, with high accessibility and high road traffic as a natural result of the policy.

There is no time better than the present to adopt Complete Streets and invest in Texas' future. More than 20 other states and hundreds of local governments have already adopted the policy; isn't Texas ready for Complete Streets yet?

For more information, and to learn how to take action, visit www.aarp.org/livable.

Chang is an intern at AARP Texas, graduating this spring from the University of Texas at Austin.