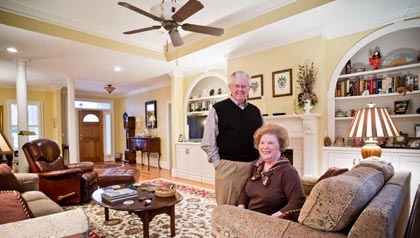 By Linda H. Lamb

• Carolyn Donges loved the three-story Columbia home where she and her husband lived for more than 21 years—but her knees didn't."All those stairs were a problem," said Donges, 68, a retired educator who has osteoarthritis and faces knee replacement surgery in the future."We knew that, at some point, we needed to get a house where the master bedroom and bath were on the first floor," added her husband, the Rev. David Donges, 72.Eventually, the couple found a home that fits their needs. It's on one level except for a room over the garage that made a perfect study for David, bishop emeritus for the South Carolina Synod, Evangelical Lutheran Church in America.Designed for a family whose son used a wheelchair, the home features an open floor plan, wide doorways, easily accessible showers, grab bars in bathrooms and lever-type door handles.Carolyn doesn't have to worry anymore about tripping or falling on stairs. "We're still active, and we want to remain active," she said.Even so, the Dongeses are still looking for ways to make their home safer and more convenient. An enthusiastic do-it-yourselfer, David recently installed pull-out shelves in the kitchen, making items easier to reach. The couple are among many older people whose homes could use some upgrades for safety and convenience and who might benefit from Home Fit presentations by
AARP South Carolina.
Simple changes; big difference
"We want to reach people who realize that by making a few changes, they can stay in their homes," said Patrick Cobb, communications director for AARP South Carolina.A Home Fit presentation is planned for the AARP Columbia chapter meeting March 18 at noon at the Capital Senior Center, 1650 Park Circle, Columbia. Please
register at this link.
"A lot of folks … are looking at downsizing," Cobb said. "That's a great time to think about things like fewer steps, wider doorways, safety and access in bathrooms."
Statistics back up the need for greater awareness about home safety—especially to prevent falls. Falls are the top cause of injury deaths among older adults, according to the federal Centers for Disease Control and Prevention, and half of them happen at home.
"It's hard to think about possibly being disabled in the future," said Mary Alice Bechtler, a program coordinator with the South Carolina Assistive Technology Program. But one area where older adults often recognize hazards is the bathroom, she said.
"You don't want to be grabbing the towel rack, which probably will go down with you," said Bechtler. Instead, a properly installed grab bar is far safer, she said. She advises people to look for a contractor
certified by the National Association of Home Builders
as an "aging-in-place specialist" when considering major renovations.
"Bathrooms are by far the most common things that we deal with," said Tim Kehoe of Kehoe Constructors in Lexington, a certified aging-in-place specialist for about three years.Grab bars are among the least expensive solutions for bathroom safety, Kehoe said. Some manufacturers make bars that coordinate nicely with your decor.
If you are considering a fancy walk-in tub, however, be prepared to make a major investment. They can cost $10,000 to $20,000 installed, he said.
More safety tips
"For a lot of folks, cost is a problem," Cobb said. But AARP and safety experts have many good ideas that aren't so expensive.
For example:
Add lighting, especially to stairs and work areas, and use rocker light switches that move easily.
Use large drawer knobs that are easier for people with arthritis to grasp.
Install nonslip tub decals, bath seating and a handheld shower attachment.
For more information about upcoming Home Fit presentations and ideas about home safety the AARP South Carolina website.


Linda H. Lamb is a freelance writer living in Columbia, S.C.