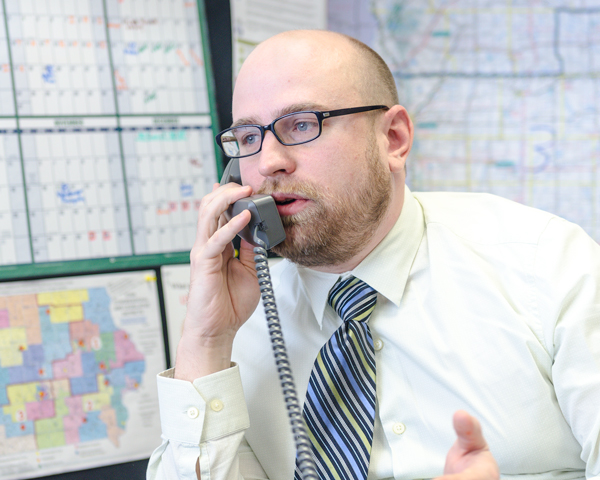 More than 10,000 Iowans from across the state joined AARP Iowa State Director Kent Sovern, Advocacy Director Anthony Carroll, and AARP telecommunications policy advocate Coralette Hannon for a discussion on emerging issues in the Iowa State Legislature, including a new proposal that would change Iowa's existing laws for oversight of landline telephone service.

Carroll gave callers an overview of the new proposal, HSB590, a bill introduced this week that would remove the oversight and ability of the Iowa Utility Board to protect Iowa consumers from telephone call problems when using a certain type of landline technology known as Voice over Internet Protocol or VoIP.

Hannon reviewed AARP's more than 20-year track record of advocating on behalf of older consumers in the telecommunications arena. Because AARP knows that landline phone service is critical for many, serving as a lifeline to family, medical care, and other life necessities, she said preserving affordable, reliable, accessible phone service for older Americans is one of AARP's top advocacy priorities.

Callers from Fort Madison and Keokuk to Newton, Mason City, Des Moines and Dubuque expressed strong interest in the issue, asking questions and commenting about the dangers they see if the Iowa Utility Board's regulatory power is reduced, including the potentially harmful consequences for those who are on pacemakers or have medical alert systems.

AARP views telephone communication as a basic necessity, allowing older people to maintain social contact, preserve health and safety, and call for assistance in emergencies. Among the services that depend on landline connections are:

Medical monitoring of pacemakers, implantable cardiac defibrillators and other lifesaving devices
Service during extreme weather or other emergencies. When the power goes out, Iowans need to be able to communicate.


AARP research shows that people age 65 and older are more likely than any other age group to have landline telephone service in their home. But the central debate is not landlines versus alternate technologies, it is about making sure that consumers have access to a communications service that meets their critical needs and is provided within a fair marketplace that allows them choice while also safeguarding their health, safety, and economic interests.

Join with AARP in the fight to preserve affordable, reliable, accessible phone service for all Iowans, especially older Iowans and those with disabilities who depend on their phone for connectivity for medical, family and other essential needs. Contact your legislator by phone, email or at their legislative meetings in your community. Tell them to say no to HSB590.

Check out this article on the subject from The Cedar Rapids Gazette.


http://www.youtube.com/watch?v=nMYSszLV2QQ&list=UUSwELOKemmk9O28nZfb-dyw&feature=c4-overview[/youtube]