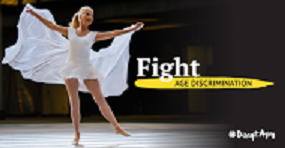 Disrupt Aging challenges outdated beliefs and sparks new solutions so more people can choose how they shoud live and age. Disrupt Aging is a guide to living your life fully at every age.

When she became CEO of AARP in September 2014, Jo Ann Jenkins declared that she wanted to change the perception of aging in America: "To disrupt aging, we need to own our age. We need to get to the point where we're no longer defined by the old expectations of what we should or should not do at a certain age. We don't want to be defined by our age any more than we want to be defined by race or sex or income — and frankly, I'm a little tired of other people defining me that way. I want people to define me by who I am, not how old I am. Disruptive aging begins with each of us embracing our own aging — feeling good about where we are in life."

In her new book titled Disrupt Aging, Jo Ann shows people how to embrace opportunities and change the way society looks at getting older. She touches on all the important issues facing people 50+ today, from caregiving and mindful living to building age-friendly communities and making our money last. She chronicles her own journey and that of others who are making their mark as disruptors to show readers how we can be active, healthy, and happy as we get older.

AARP believes that no one's possibilities should ever be limited by their age. Disrupt Aging will help you live your life fully at every age and it was. Visit this site below to begin disrupting aging: www.disruptaging.aarp.