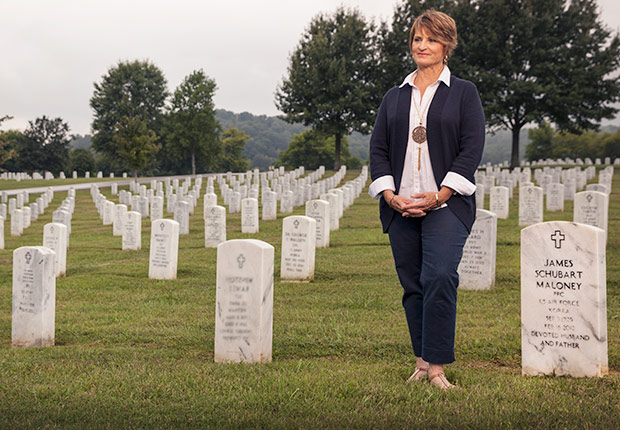 By Sheila Burke

Fireworks burst in the sky with the ashes of a man who died the year before. A burial site is nestled in a wild forest at the foothills of the Appalachian Mountains. A family prepares the body of a beloved patriarch at home before putting him to rest in a handmade casket.

These are some of the different ways that people have been honored after their deaths in accordance with their wishes.

Talking about how you or a family member would like to be remembered might seem grim and depressing, but thoughtful planning can ease both the financial burden and the grief.

"I think people fear talking about that time, but actually talking about it makes a rich ending more likely, not less likely," said Sandra Jones, an adjunct instructor in psychology at Middle Tennessee State University who teaches a class on death and dying.

In honor of National Family Caregivers Month, AARP is encouraging people to get those conversations started. And the upcoming holidays, when family members are together, provide a good opportunity.

"Having the conversation doesn't have to be morbid or depressing or eerie," said Tara Shaver, interim communications director of AARP Tennessee. "It's just life. Death is a part of the circle, so talk about it."

Those who don't feel comfortable talking about it can still write down how they would like to be remembered, she said.

Shaver was faced with carrying out her own father's wishes after he died unexpectedly at 54.

Music and motorcycles
"While he didn't get to be part of the formal planning involved, he had always made jokes," Shaver recalled. "He said, 'I don't want people crying when I'm gone. I want them to remember the good things and I want there to be a party.' "

After Lynn Shaver died in 2011, the family planned a memorial service that focused on the lessons he had taught his family and his good-humored disposition. Music reflected his strengths in life, and a funeral procession led by friends on motorcycles was a fitting send-off for a man who often took to the road on his Harley-Davidson.

When Jim Maloney died peacefully at his Nashville home at 82, his family opted to forgo the undertaker. Instead, his wife and other family members prepared the body themselves, rubbing it with essential oils, before placing it in a casket built by two of Maloney's friends and his youngest son.

Maloney, a former insurance salesman, had been vibrant and energetic into his ninth decade but then was diagnosed with cancer and given months to live. He asked to die at home and be buried in a pine box.

"Even though we saved a lot financially, it was far more important than just the economic savings," Maloney's widow, Debbie, said of the family undertaking. "It was just an amazing educational and loving, intimate time for our family to go through."

Online resources can help, whether services are more traditional or a little unorthodox. The Maloneys, for example, used the National Home Funeral Alliance site ( homefuneralalliance.org).

Jones, whose class on death and dying is part of the MTSU Aging Studies Program, said families can get help planning by going to the National Hospice and Pallia­tive Care Organization website ( caringinfo.org).

She also recommended the National Funeral Directors Association ( nfda.org/public) and articles by the Center for Loss & Life Transition ( centerforloss.com/articles).

Planning certainly helps families save money, said Jones, but it's the ritual, whether formal or informal, that helps the living in the grieving process.

"Rituals are built on desire for connection, and we all search for symbolic connection with a loved one," Jones said.

"Rituals help us stay connected," she added, "and they give us meaning and comfort, so thinking about it ahead of time helps."

Sheila Burke is a writer living in Nashville.