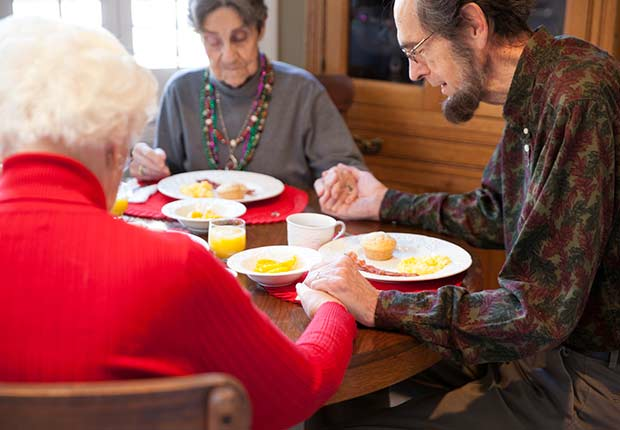 By Hollie Deese

About two years ago, John Mansfield's mother, Janie, went from mowing the lawn of her four-acre property with just a gasoline push mower to requiring daily check-ins from a neighbor to make sure she was eating fresh meals and not getting confused and hoarding them.

"She started mentally to go downhill—dementia and probably the early signs of Alzheimer's," Mans­field said. "She just wasn't eating or taking care of herself.... At that point, she was in really bad condition. The doctor said ... she would not have lasted long staying by herself."

Ever since his father died 35 years ago, Mansfield was prepared to take care of his mother, now 93, when the time came. As her condition deteriorated, Mansfield, 76, and his wife, Betty, 77, decided a year ago to move his mother from Kentucky to their Nashville home.

When Janie first arrived, the transition was tough, Mansfield said. His mother was confused, tearing things up and walking the house at all hours of the night. She has glaucoma and was nearly blind in one eye. A home-care nurse provided some help for the first few months.

For years, Mansfield has made appearances as an Abraham Lincoln presenter, which he enjoys, but the work generates little income. His mother and wife sometimes accompany him.

Even with his mother's dementia, "we have been blessed" with her overall health, Mansfield said. He knows that could change at any time—for his mother, his wife or himself.

In addition to Medicare, Janie is covered by a small supplemental health insurance plan with high premiums, and they don't want to take a chance on changing that coverage. Eventually, when Mansfield and his wife can't take care of his mother, they will look for help, but they may not qualify for the state's Medicaid program.

AARP Tennessee wants to make sure help is available for families like the Mansfields when they need it. When the General Assembly begins its session on Jan. 13, the organization will focus on several priorities, including expanded Medicaid coverage and protecting property-tax relief.

Policy priorities

"During the 2015 session, AARP will be working specifically to ensure access to health insurance for the working poor, to allow advanced practice nurses, such as nurse practitioners, to work within the full scope of their education and training, and to maintain funding for property-tax relief for those over 65, the disabled and disabled veterans," said Rebecca Kelly, state director for AARP Tennessee.

In August, Gov. Bill Haslam (R) said the state would work to submit a proposal to expand Tennessee's Medicaid program, but little progress has been made. If approved by federal officials and the legislature, a plan could help the 162,000 adult Tennesseans currently without health insurance, according to the Kaiser Family Foundation.

The state's 41-year-old Property Tax Relief Program, designed to help low-income elderly and disabled homeowners, is fully funded, but there is a concern that claims for relief will outstrip the budget. AARP is working to make sure that the program has full funding for the coming year.

Kelly said AARP Tennessee also plays a watchdog role during the session, ensuring that "older consumers are protected against any unintended consequences of the more than 2,000 bills that are filed each year."

If you are interested in becoming an AARP Tennessee volunteer to advocate on these issues, email tnvolunteer@aarp.org or call 866-295-7274 toll-free and the volunteer support team will follow up.

John Mansfield is just hoping for some help when he, his wife and his mother need it.

"We realize that time is going to come, and the doctors' bills, when they come in, are not going to be cheap," he said.

Hollie Deese is a writer living in Gallatin, TN.