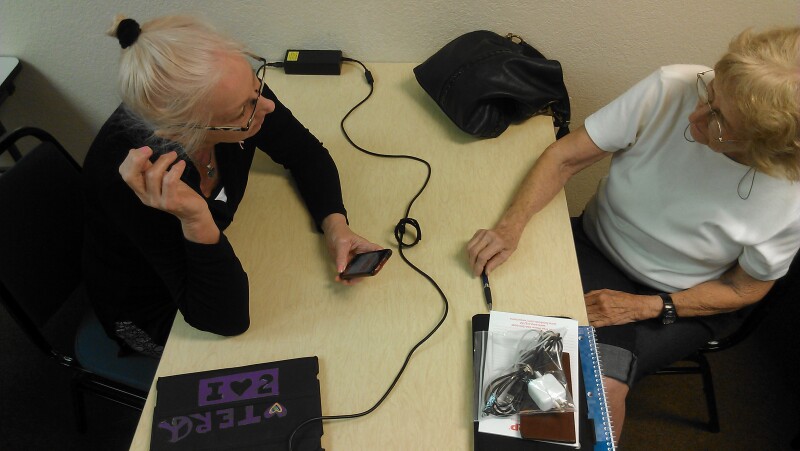 Understanding the ins and outs of your mobile device or notepad can be daunting. In fact, many people 50 plus find operating their high-tech gadgets a bit overwhelming.
In Tucson, a group of tech-savvy volunteers from the AARP Tucson Community Group have stepped up to help people who are having difficulty operating their tablet or mobile phone.
Every Tuesday at the AARP Tucson Information Center, the volunteers host a free Tech-Mentoring Session where they provide one-on-one tutoring to people who want to know how to better work their phone or notepad. "It doesn't matter what type of mobile device, notepad or laptop it is," said coordinator Warren Beneville. "If they can carry it here, we can help them with it. We've even assisted people with their digital cameras and GPS systems."
Warren adds that people simply want to know the basic functions so they don't feel frustrated in today's high-tech world of mobile gadgets. "Our one-on-one training and plain-language instruction usually makes people feel more comfortable about their device along with giving them a better understanding of the technology-laced jargon that goes with it."
The sessions are catching on and the volunteers sense a real need in the community. "We've touched on something that is making a difference in peoples' lives," said Warren. "Whether it's learning how to take a picture or video on their phone or emailing an attachment to their grandchildren, knowing how to connect online or through a mobile device is a big part of how we live our lives today. Having a better understanding of how to do these things keeps us all connected to friends and family, as well as engaged in today's fast-paced society."
People interested in attending a Tech-Mentoring Session at the AARP Tucson Information Center are asked to register as seating is limited.
Please visit the Tucson Adult Learning Adventures website to register by clicking here.
*Photo courtesy of Tucson Adult Learning Adventures