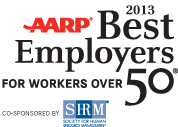 Three Massachusetts companies are best! Tufts Health Plan, Massachusetts General Hospital, and the Massachusetts Institute of Technology have been named as 2013 Best Employers for Workers Over 50. They join a diverse group of 50 forward-thinking employers recognized by AARP and the Society for Human Resource Management (SHRM) for demonstrating that enlightened policies toward 50-plus employees make good business sense.

"As employers face the generational shift in their workforce, it's in their best interest to keep 50-plus workers on the job. Employers who prepare today have the potential to be more competitive tomorrow," says Michael E. Festa, state director of AARP Massachusetts, which represents more than 800,000 members age 50 and older in the Bay State.

The Bay State employers recognized this year by AARP and SHRM illustrate two employment sectors that help drive the Massachusetts economy, and will likely be first and hardest hit by the aging workforce: health care and education. These sectors have encouraged long service, have had relatively little hiring in recent years, and/or major downsizing in the 1980s and 1990s.

"Best Employers recognize the importance of innovative policies – such as flexible work schedules, professional development, job sharing and redesign, good health benefits and opportunities to save for retirement – as they work to retain and recruit experienced workers," explains Festa. "In developing and instituting these policies and practices, these companies continue to chart the course for other employers to follow."

Announcement of the top 50 came jointly by AARP and SHRM, which is cosponsoring the Best Employers program for the first time. SHRM is the world's largest association devoted to human resource management.

"Every organization needs to view its older workers as highly valuable assets and develop strategies to keep this enormous wealth of talent," said SHRM President and CEO Henry G. (Hank) Jackson. "It's absolutely critical for organizations to embrace new ways to retain older workers, especially in the face of the coming wave of Boomer retirements."

Any U.S.-based employer with at least 50 employees is eligible to apply for the Best Employers award. Candidates are vetted to ensure that practices meet the needs of mature workers. Key areas of consideration include: recruiting practices; opportunities for training, education and career development; workplace accommodations; alternative work options, such as flexible scheduling, job sharing and phased retirement; employee health and retirement benefits, and retiree work opportunities.

More on Massachusetts employers:

Massachusetts General Hospital (MGH) of Boston offers employees a number of innovative benefits including financial and retirement planning, dependent care, and flexible work options. MGH uses senior placement agencies to target mature workers and retirees, and offers retirees temporary work assignments, consulting and contract work, part-time work, and volunteer opportunities. This is MGH's fifth appearance on the Best Employers list (2006, 2007, 2008, 2011, 2013).

Massachusetts Institute of Technology (MIT) of Cambridge is a seven-time Best Employers recipient (2003, 2005, 2006, 2008, 2009, 2011, 2013). By creating a positive work environment through a generous benefits package, progressive programs like MITemps and internal hiring practices, MIT has been able to foster growth and maintain high levels of retention. Thirty-seven percent of MIT employees are age 50 or older, with an average tenure of 15.9 years.

First time winner Tufts Health Plan has an on-site clinic that provides free wellness coaching, preventative care, symptom care, and lab services for all employees enrolled in the company's medical insurance. The company's Employee Assistance Program (EAP) offers numerous benefits relevant to older workers including providing counseling for issues such as living with aging parents, assisting with searches for elder care services, and providing legal advice and personal financial consultations. EAP services are available to full- and part-time employees as well as their family members.

About Best Employers

This is the program's eleventh awards designation since launching in 2001. For a full list and for more information on the 2013 Best Employers, please go to www.aarp.org/bestemployers, which includes background on employers' workforce practices and a description of the selection process.