On Sept. 16th, AARP hosted a statewide teletown hall with Iowa's State Insurance Commission Nick Gerhart to answer questions about how the new health care law affects older Iowans, especially those individuals ages 50-64. More than 8,000 Iowans joined the hour-long conversation that questions ranging from changes in pricing for individual coverage to the tax credit assistance that will be available through the new low to qualifying low- and middle-income consumers.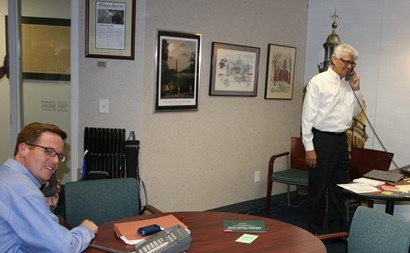 Click here to listen to the entire teletown hall. The Iowa Insurance Division is also hosting a series of 20 statewide insurance marketplace meetings for consumers and small business employers that started on Sept. 21 and run through Nov. 21. The complete schedule of event locations is attached. As Commissioner Gerhart stressed on the call, Oct. 1 is just the beginning of the open enrollment period for the individual marketplace, which runs through March 31, 2014.

Thanks to Lee Enterprise reporter Mike Wiser for listening in on the call and summarizing a number of the key questions and answers in his story this week in the Muscatine Journal.

What's an exchange?
The Affordable Care Act requires states to set up insurance exchanges where companies could offer insurance plans to consumers. Plans offered on the exchange must meet certain federal coverage requirements — for example, people cannot be denied because of pre-existing conditions.
Where is this exchange?
The starting point is the federal government website,
www.HealthCare.gov.
Drop-down menus will help you navigate through the process in order to compare health care offerings for your circumstances. The insurance policies being offered in California or Texas, for example, will be different than the ones being offered in Iowa. There are even differences in policy options depending on what part of the state you live in.
I thought Iowa was doing its own thing. Why am I going to a federal government website?
States had the option of going three ways in setting up their exchanges: a state-run exchange, a federal-run exchange or a state-federal partnership. Iowa chose the partnership model. So while the insurance plans are run through the Iowa Insurance Division, the federal government is maintaining the exchange web portal.
Can I see the companies and plans involved in Iowa's insurance exchange?
Final policies and prices have not yet been released, but will be posted on the exchange no later than Tuesday, Oct. 1.
Six companies will offer insurance on the Iowa health care exchange. Two companies, Coventry Health Care and CoOportunity Health are offering policies statewide. Four other companies are offering policies in specific regions. Those companies are: Avera Health Plans, Gunderson Health Plan, Sanford Health and Health Alliance Midwest.
Will the policy prices on the exchange be lower than what's available now?
A lot of that depends on the specific circumstances of the individual. The Affordable Care Act put in place minimum coverage requirements that all insurance plans will have to offer eventually. These may or may not be different than the current plan an individual has, so costs would reflect that.
So it will be "affordable?" Like it says in the name, right?
Affordable is a subjective term, and lawmakers determined that insurance which costs up to 9.5 percent of annual income is considered "affordable."
The law allows for subsidies on a sliding scale for people who make up to 400 percent of the federal poverty level, or roughly $94,000 a year for a family of four.
What's this I hear about different types of plan categories?
The ACA separates plans into four categories based on how much your premium will cost and what your out-of-pocket costs will come to. Premiums are the monthly fees now typically paid by you and/or your employer. Out-of-pocket costs are items not covered by your plan.
The categories are platinum, gold, silver and bronze. These categories aren't related to the quality or coverage of insurance, just how much you can expect to pay in premiums and out-of-pocket costs, which are typically inversely expensive. Plans with higher premiums typically have lower out-of-pocket costs and vice versa.
In the ACA model, platinum plans have the highest premiums and cover 90 percent or more of expenses, gold plans are the second-highest and cover 80 percent, silver covers 70 percent and has the third-highest premiums, while bronze plans have the lowest premiums and cover roughly 60 percent.
So someone who expects to have a lot of doctor visits and/or regular prescriptions would likely want a platinum or gold plan, while someone with less-frequent doctor visits may want to choose a silver or bronze plan.
Who else can help me choose my plan?
Three Iowa agencies — Genesis Health System, Visiting Nursing Services of Iowa and Planned Parenthood — are designated "navigator" agencies in the state. They have staff trained on how to help people use the exchanges.
By law and rule they are prohibited from having conflicts of interest, meaning they can't have financial relationships with the companies selling the insurance policies.
Are there other information resources out there?
In addition to the
www.healthcare.gov
website and the navigators, there's a 24-7 hotline at
1-800-318-2596
or (TTY: 1-855-889-4325). In addition, by going to
healthcare.gov
consumers can get involved in real-time, online chats or get directed to state-specific help.
The Iowa Insurance Division also is hosting more than 20 town-hall meetings in various locations around the state to give people information about the Affordable Care Act and the changes that come with it. The listing can be found
here