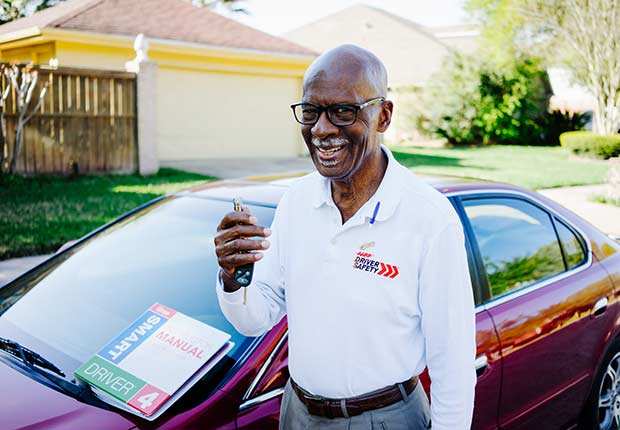 By Tracy Sutton Schorn

Barbara English, 85, of New Braunfels, says she doesn't drive as often as she used to, "just to the gym five times a week," to the grocery, doctors and church, and to Sugar Land occasionally to see her sister (a nearly 360-mile round trip).

Thanks to the AARP Smart Driver course, which English has completed twice, she has adopted new driving strategies and made some accommodations for age.

She avoids left-hand turns if possible. "Drive around the block instead," said English, sharing the advice she learned in the course. She doesn't rush. "If you're tired, pull over."

And she doesn't drive at night. Whatever the time of day, "always drive with your headlights on."

English also credits the course for updating her on the latest driving laws and technologies, such as navigation systems, air bags and voice-activated controls. "I feel more confident," she said.

The AARP Smart Driver course is the nation's first and largest refresher program designed specifically for older drivers. For more than 30 years, the classroom and online courses have taught millions of drivers proven strategies to be safer on the road as they age.

Since January 2014, the course has a new and improved curriculum, with a guidebook revamped to include the latest in driver safety. Topics covered include how changes in health affect driving, new vehicle technologies, roadway strategies and how to assess your own driving.

Typically, the course takes four hours, and it is also available online in English or Spanish. The certificate for completing it is good for three years and can lead to an insurance discount.

Some insurance carriers give Smart Driver graduates as much as a 10 percent discount. Check with your insurance carrier to see if you qualify.

Course participants can also access videos at the Driving Resource Center ( aarp.org/DRC), an inter­active website that includes driving simulations and covers state-specific traffic laws.

Risk of impairment
According to the federal Centers for Disease Control and Prevention, the risks of traffic fatalities rise with age. Fatal-crash rates increase starting at age 75 and jump significantly after 80. Much of this risk can be attributed to greater susceptibility to physical injury and medical complications.

Certain medications can interfere with driving ability. Age-related decline in vision and cognitive functioning can impair some drivers as well.

"There's no real definition of when you're 'too old to drive,' " said Andrew Watson, 83, a deputy state coordinator for AARP Driver Safety in Fresno. "Some people are old at 65, and others are young at 90."

A Smart Driver course can help drivers remain independent longer. However, it also asks participants to reflect on when it might be time to explore other options.

The course has developed helpful tips for family members who have difficulty approaching the sensitive subject of when it's time for a loved one to stop driving, said Mary Williams, 65, a Smart Driver instructor in Harris County.

Many times an older driver won't listen to family members, Williams said, but will listen to others, such as an AARP instructor.

The Smart Driver courses, while designed for older motorists, are available to drivers of all ages.

Classroom courses cost $15 for AARP members and $20 for nonmembers. Online classes are $17.95 for members and $21.95 for nonmembers.

For more information or to find a classroom course nearby, go to aarp.org/drive or call 877-846-3299 toll-free. To register for the online course, go to aarp.driversafety.org.

If you are interested in becoming a volunteer instructor, go to aarp.org/dsvolunteer.

AARP Texas is also looking for sites, such as community centers and churches, to host Smart Driver courses.

Tracy Sutton Schorn is a writer living in Lockhart, TX.