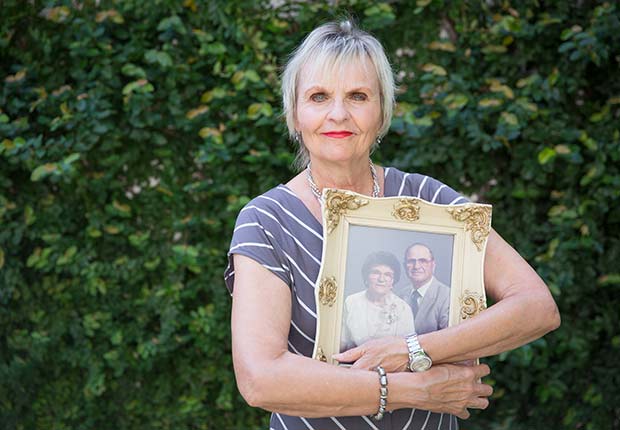 By Thomas Korosec

The dementia that Carol Marak's father developed in the last several years of his life presented no small problem for a family wanting to take care of him in the best possible way.

Alfred Marak raised four kids on his wages as a worker in a tire plant in West, Texas, his daughter recalled. "Growing up, my family was proud to be part of the middle class," said Carol Marak, 64, an online marketer in Austin.

Still, her father's pension and Social Security benefits couldn't cover the $2,200 a month the family needed for a nursing home. They turned to Medicaid, which covered the $450 monthly shortfall and assured that Alfred Marak lived the last two years of his life in a comfortable setting.

Medicaid, which in Texas provides health coverage to 4.6 million children, low-income and elderly adults, pregnant women and people with disabilities, was signed into law by President Lyndon B. Johnson 50 years ago this month.

"There aren't a lot of guarantees in life, but we can all be grateful that Medicaid stands as a safety net for the middle class," said Bob Jackson, AARP Texas state director. "Over the years, it's improved the length and quality of life for millions of Texans.

"All over the state, families are able to see doctors and get the health care they might not otherwise be able to afford. What's more, Medicaid lets many older folks live independently at home and in other safe places," Jackson said.

One-fourth of state budget
While the aged and disabled make up 26 percent of those receiving help from Medicaid in Texas, they receive 60 percent of the state's Medicaid dollars, according to state figures.

Texas spends about one-fourth of its state budget on Medicaid—$35 billion. For every dollar the state spends on Medicaid, the federal government contributes $1.38.

Medicaid pays for about two-thirds of all nursing home care in the state, according to the Texas Medical Association. But it also pays for home- and community-based services such as home attendants who help with daily activities including bathing, dressing, meal preparation and medication reminders. It partially covers care in adult day centers, too.

"This can help people stay at home and be a little more independent and delay or defer a nursing home stay," Jackson said.

Texas leaders have opposed expanding Medicaid as allowed under the Affordable Care Act. Although the law says the federal government would pay the full cost of those covered by the expansion this year and next—gradually declining to 90 percent in 2020 and beyond—Texas leaders have questioned the federal commitment.

About 950,000 adult Texans would gain coverage were the state to expand Medicaid, according to the nonpartisan Kaiser Family Foundation.

The number of uninsured low- income Texans is large because the state's income threshold for Medicaid eligibility is the lowest in the country, tied with Alabama. Parents in Texas can earn no more than $3,764 a year, but children in households with higher incomes can still be covered by Medicaid.

Access to physicians and other providers is one of Medicaid's biggest challenges in Texas.

"Inadequate physician payment rates" have forced many practices to limit service to Medicaid patients or cease seeing them altogether, Martin Garza, a pediatrician from Edinburg, told the state Senate Finance Committee in February.

Medicaid payments in Texas rank 37th among all states (tied with Maine) and are about 65 percent of what Medicare pays, the Kaiser Foundation reports.

"We know our request [for higher payment rates] will entail significant new costs," Garza told lawmakers. "But fixing a Medicaid system widely acknowledged in need of repair must begin with bold action by Texas leaders."

It was bold leadership by one Texan five decades ago that led to the program's creation.

Speaking of anticipated high health care costs in a 1965 telephone conversation, Johnson said, "I don't argue about that any more than I argue about Lady Bird buying flour. You got to have flour and coffee in your house. And education and health."

Thomas Korosec is a writer living in Dallas.