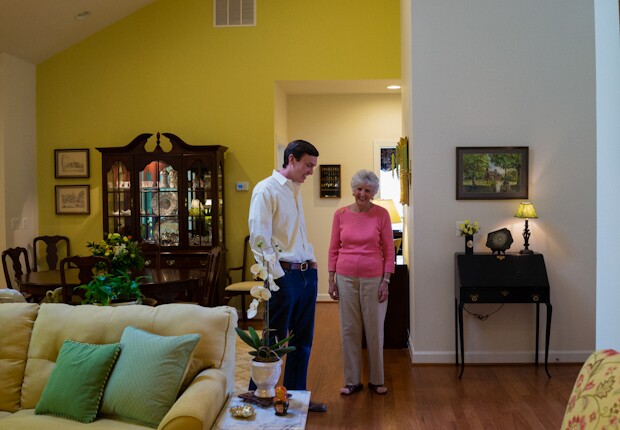 By Gil Klein
When you walk into Linda Broadbent's house in Charlottesville, you're struck by the openness and airiness of this new home. It appears to be a comfortable place to live.
What you don't notice right away are the accommodations the builder made for her home to be certified as an "EasyLiving Home," designed to accommodate people in all stages of life.
Broadbent's house is one of 36 in Charlottesville that make up Virginia's first EasyLiving Home-certified community. It is a concept that AARP supports to encourage home builders to design residences where people can "age in place" longer because no impediments restrict their access to essential parts of the home.
At 76, Broadbent has been a Charlottesville real estate agent for 22 years, specializing in housing for older people. She realized she could not find a home in town that provided the amenities she would need if she had mobility problems. Certainly her town house with a flight of stairs to the master bedroom wouldn't work.
So she talked with Frank Baliff, a friend who is president of Southern Development Homes, a local builder. "I had been after Frank for years: 'When are you going to build something for me?' "
That's when Southern Development Homes began looking seriously at the concept and feasibility of building EasyLiving houses.
"We saw the demand, and it was something that was too obvious to ignore," said Charlie Armstrong, Southern Development vice president for land development. In a year and a half the company built 36 homes, and by April had sold all but one. Prices range from $370,000 to $600,000.
"We're going to build these everywhere we can," Armstrong said.
He expects to build 200 EasyLiving homes in five years, and other Charlottesville developers are eyeing the concept.
$5,000 state tax credit
EasyLiving Home is a Richmond-based private-public nonprofit organization, said Teri Barker-Morgan, vice president of the executive board.
Supported by AARP, the state government and private entities, it has created guidelines that define a home compatible for all people, regardless of age or physical ability: wider doors and hallways, no entry steps, a first-floor master bedroom, open design that eases wheelchair mobility, slightly lower countertops, lower light switches and higher electrical outlets, and the ability to install grab bars in the bathroom.
Houses that meet these criteria can get an EasyLiving Home certificate, similar to a "Good Housekeeping Seal of Approval." Buyers are then eligible for a $5,000 state tax credit.
AARP Virginia offers workshops that focus on how to retrofit existing homes so their residents can age in place. Schedules are available at aarp.org/va. But building new houses with these amenities often can be less expensive.
"Older people want to remain in their homes for as long as possible, so we would encourage builders and remodelers to take these factors into consideration when doing construction," said Amber Nightingale, AARP Virginia associate state director for community outreach.
Jack Thompson, a vice president of Richmond's Habitat for Humanity affiliate, said Habitat is starting to build EasyLiving features into its homes so families can stay in them for a lifetime.
Stephen Thomas, a Richmond-area builder who chairs the EasyLiving Home board of directors, said he became interested in the concept after his mother broke her hip and he saw the difficulty she had in her home. He has constructed five EasyLiving homes.
"Once the public realizes they can get a new home built with these features at very little extra cost, it just makes sense," he said.
Gil Klein is a writer living in Arlington, Va.
Also of Interest