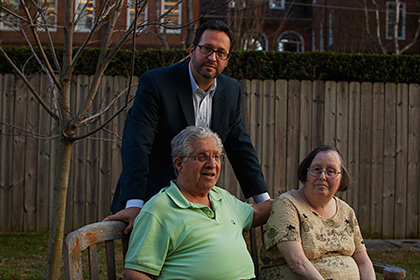 Karen Haywood Queen
Michael Pirron thought he had covered everything to ensure his parents had lifetime care.
He helped them arrange long-term care insurance, set up its payment using automatic bank drafts and named himself as a third-party designee to be notified of major policy changes. Despite his efforts, the insurer canceled the policy shortly before his mother needed it. Now, Virginia taxpayers are paying for her care.
Pirron, 43, of Richmond, blamed the cancellation on mix-ups and weak notification requirements.
AARP Virginia is supporting a bill in the General Assembly that aims to strengthen notification requirements by mandating that cancellation notices to third parties be sent via certified mail.
"A big part of long-term care insurance is peace of mind," said David DeBiasi, AARP Virginia director of advocacy. "Part of having a certified letter also is peace of mind. His parents bought insurance so they would have a way to pay for the care they need."

$50,000 paid for coverage
About 11 years ago, Pirron's parents, David, now 80, and Anne, now 71, took out a policy from John Hancock Financial, Pirron said. The older Pirrons paid about $50,000 in premiums. The automatic payment and third-party notification were intended to guard against cancellation because of forgotten payments.
In 2012 Pirron called the insurance company to look into care options for his mother and was told the policy had been canceled for nonpayment. Pirron learned that his father—who had become increasingly forgetful and confused—intended to cancel an automatic payment for another bill, but instead had canceled payments for the long-term care insurance.
The insurance company sent cancellation warning letters to the senior Pirrons, who saved them but didn't follow up. None of the letters indicated a copy had been sent to him, Michael Pirron said. The company claims he was sent a letter; he said he never received one.
John Hancock Financial spokeswoman Melissa Berczuk declined to comment on the Pirrons' case, but said: "We take our commitment to customer service … very seriously, including our obligations with respect to third-party lapse notifications."
Pirron's parents now live in a Richmond apartment and his mother goes to an adult day care facility that has doctors, nurses, occupational and physical therapy, and psychologists on site, he said. She also has some in-home care. Rather than being covered by the long-term care policy they purchased, her roughly $4,400-a-month care is paid by the Medicare-Medicaid partnership program called PACE.

Legislation planned
Virginia law requires notification only by first-class U.S. mail for cancellation of long-term care insurance. Del. Jennifer McClellan (D-Richmond) said she plans to introduce a bill that would require third-party designees for such insurance to be notified by certified mail return receipt, which requires the recipient to sign for the letter, before the policy could be canceled.
"As more seniors face dementia, it's really easy on a technicality to be terminated," McClellan said. "Michael had taken steps to prevent that. His mother could have been on private insurance. Instead, because the insurance company took a hard line, she had to go on Medicaid. Ultimately the taxpayers will pay for it."
Jesse Slome, executive director of the American Association for Long-Term Care Insurance, said insurers are responding to consumer preferences and reducing costs by using email for correspondence.
"Requiring certified mail is a step back in time," Slome said. Sending cancellation notices by certified mail would be expensive, especially in the first year of a policy when the lapse rate (where a policy is allowed to expire) is about 9 percent, he said. "Requiring certified mail will be time-consuming and costly—something that will ultimately be calculated into the expense portion of the premium."
DeBiasi scoffed at the minimal expense. "I cannot imagine an insurance company being able to legitimately argue that a $600,000 policy doesn't deserve the protection of a $6 letter. It's shameful that they would even bring that up."
"It's too late for my parents," Pirron said, "But this should never happen to any other Virginian."
McClellan said support from AARP and members will help get the bill passed. "I encourage readers to address their concerns to their delegate or senator."
Karen Haywood Queen is a writer living in Williamsburg, Va.