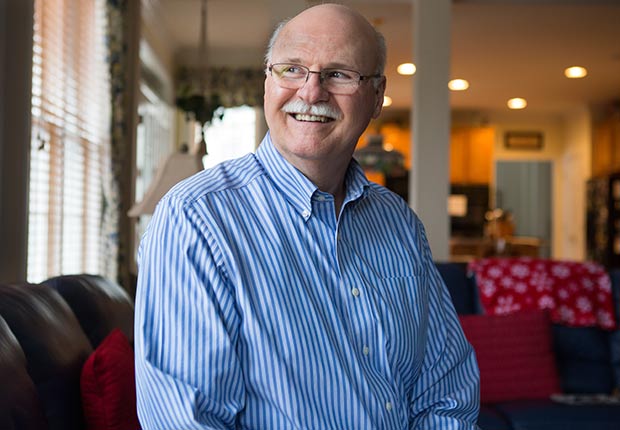 By Sue Lindsey

After 12 years of helping care for his mother, who had Alzheimer's disease, Patrick McMahon wanted to continue to assist older people. He found the perfect role as a volunteer ombudsman advocating for the rights of people receiving long-term care.

The Leesburg resident began volunteering with the Northern Virginia Long-Term Care Ombudsman Program four years ago, after he retired from his federal job in the security field.

McMahon, 63, visits an assisted living facility in Loudoun County a couple of hours twice a week to hear residents' concerns and help resolve them.

"I think it's so important for people to know they have an advocate in the facility who is not on its staff," said Lisa Callahan, ombudsman and volunteer specialist with the Northern Virginia program. Fear of retaliation may keep residents from speaking up, she said.

Statewide, there are 32 staff ombudsmen—about half of them parttime—who work with volunteers to help improve the quality of life for people receiving long-term care, mainly in nursing homes and assisted living facilities, said Joani Latimer, the State Long-Term Care Ombudsman who heads the program. She oversees ombudsmen across the state who monitor laws, policies and regulations, and advocate for residents' concerns.

Local programs receive federal and state funding, and most are based in local Area Agency on Aging offices. The Northern Virginia program serves Arlington, Fairfax and Loudoun counties and the city of Alexandria, and is the only one receiving significant local funds.

Volunteers make a difference to a staff that is stretched thin, said Willie Alston, the only staff ombudsman in the Norfolk area office. The 13 volunteers in Alston's office are each assigned to a facility that they visit weekly, he said.

"Patients share their concerns with someone when they see them on a regular basis," he said.

Across the state, common complaints are about food or a failure to respond to a request for assistance. The ombudsman's role is to advocate on behalf of residents and work with the facility.

"What I try to do is get the residents to engage with the staff," McMahon said.

Last year, 84 volunteers in the state gave 13,678 hours, said Gail Thompson, assistant state long-term care ombudsman.

More advocates needed
The Northern Virginia program has about 50 volunteers who help the staff of seven by making periodic visits to more than 100 facilities. Callahan, who wants to add up to 25 more volunteers this spring, asked AARP Virginia for help.

Bob Blancato, state AARP president, sent a letter in January to Northern Virginia members seeking volunteers (find information at states.aarp.org/ltcombudsman).

"It's a wonderful program," said Blancato, 65, of Arlington. "Trained volunteers are critical to the program as we make a concerted effort to make sure that residents' rights are always protected. And help is provided when problems arise that residents may not be able to resolve alone."

Volunteers are asked to commit to serving four hours a week for at least a year, Callahan said.

Sue Drumm, a staff ombudsman in Charlottesville, said her program has 26 volunteers, many of whom are retirees who have worked in nursing or social services. "We love retirees as volunteer ombudsmen because of the life experience they bring to the role. It involves a lot of listening and patience, also perspective."

Volunteers go through training in areas such as residents' rights, long-term care regulations and communication skills, Alston said.

"Part of the training of volunteers is to help people understand how to communicate effectively when someone might be put off by a suggestion," Latimer said.

A little communication can go a long way. McMahon recalled how a resident of one facility complained that the food was too salty, while another said it wasn't salty enough. The solution: Put various condiments on the tables so residents can use them as they like.

To find the ombudsman program office in your area, go to elderrightsva.org or call 800-552-3402.

Sue Lindsey is a writer living in Roanoke.