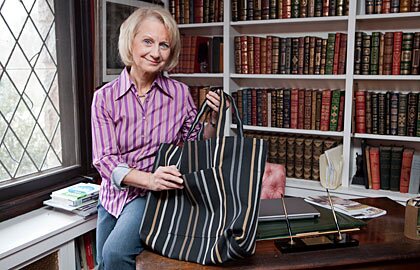 By Theresa Sullivan Barger • After decades of part-time and volunteer work while raising her sons, Phyllis Fryzel wanted full-time employment that would combine her international banking experience with her passion for helping others.

Unwilling to return to the corporate culture, she decided to start her own business.

Fryzel, 61, of Wilton, consulted for five years, promoting women's leadership and socially conscious businesses, which use for-profit business techniques to help solve social problems. When Fryzel learned there is an organization in Connecticut that helps entrepreneurs launch socially conscious businesses, she joined.

The nonprofit, called Social Enterprise Trust (reSET), helps business owners combine "the best of both worlds. You want to apply business methods to attacking social problems," Fryzel said.

AARP Connecticut hopes to help prospective entrepreneurs by steering them to reSET's resources and by recruiting people with business experience as volunteer mentors.

A way to stay active

"A lot of people are retired or looking at retirement but want to keep actively engaged and keep their skills sharp," said Nora L. Duncan, AARP Connecticut state director. Mentoring a start-up entrepreneur is one way to do that, she said.

Duncan said reSET can provide information about identifying investors, obtaining financing and networking with peers—information that new entrepreneurs may not be able to find elsewhere.

Founder Kate Emery said people who come to reSET "want to invest that third stage of their life in something that gives back, that serves a larger purpose."

Early this month, reSET opened an office in Hartford where social entrepreneurs can rent space by the hour, day or month, and use business services on a pay-as-you-go basis, said Michelle Cote, reSET executive director.

It offers 10-week social entrepreneur programs, guidance on developing business and marketing plans, and workshops to help people flesh out their business ideas.

"With people having longer and more productive lives, they do want to have opportunities other than playing golf," Fryzel said. "I just feel like I have a lot more to contribute to business and communities, and that's where I want to spend my time."

One snag for socially conscious businesses is the lack of a business classification that fits their model, making start-up funding a challenge. Socially conscious enterprises are a hybrid of for-profit and nonprofit operations.

Gov. Dannel P. Malloy (D) has proposed a business classification that spells out requirements for socially conscious businesses, called "benefit corporations." In addition to functioning to benefit shareholders, a benefit corporation must provide a general public benefit such as improving a community; promoting the arts, sciences or education; or protecting the environment. AARP Connecticut has endorsed the bill.

Visit socialenterprisetrust.org for more information on reSET.

Other help available

AARP Connecticut's other offerings to encourage employment and mentoring include:

AARP's Work Resources website, which includes Work Reimagined, a LinkedIn-based social media group that connects workers who have at least 20 years' experience with employers seeking seasoned workers. Participants have access to job listings for openings tailored to their skills, experience and location.
Free workshops for would-be entrepreneurs age 50-plus are April 16 in Waterbury and April 18 in Bridgeport cosponsored with the U.S. Small Business Administration. Register at aarp.org/ct.
Theresa Sullivan Barger is a writer living in Canton, Conn.