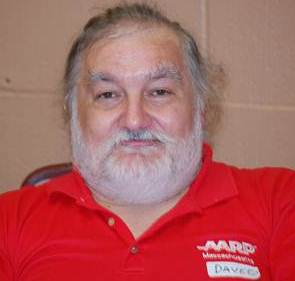 By Carol Brooks Ball

Volunteer David Sacenti of Springfield is someone who can always be counted on to help out. "I told Kara [Cohen, Community Outreach Director for AARP Massachusetts], 'Whatever you want, I'm in!'" Sacenti, 61, told us recently during a phone interview.

Elder hunger is a special concern for David. Part of his expertise as a volunteer includes helping local residents get the food they need through SNAP (Supplemental Nutrition Assistance Program), the program formerly known as food stamps.

David, who is disabled, knows how difficult it can be to obtain necessary services. To that end, he urges those who can volunteer—especially those in Western Mass.—to join him and help seniors and those with disabilities access the benefits for which they may be eligible.

David, what's your work/professional background?

I worked in retail for different companies for 37 years, 30 of them in retail management. Between Thanksgiving and Christmas, I'd go in at 6 in the morning and be there all through the night.

Working those many years on concrete floors [was injurious]; I have no cartilage left in my knees. So, in 2005 I went on Social Security disability. If I stand for too long, I need to sit down—but I also can't sit too long. With AARP, I'm always moving, and [it's okay] if I stand around, walk around, or sit, as long as I'm helping someone.

What was the impetus for volunteering with AARP Massachusetts?

When I stopped working in 2005, I saw an ad in the paper for volunteering with the Red Cross, so I did that for a year and a half. One day, they had a health clinic at the Basketball Hall of Fame [in Springfield], and I bumped into Linda Fitzgerald [AARP Massachusetts state president]. She said, "You should come down and see us and we'll put you to work!" I wanted to do something and continue to volunteer.

You've been especially active around the issues of hunger and SNAP; why these issues in particular?

In the U.S., one out of six people will go to bed hungry every night. We could be feeding everyone who needs to eat in this country. The government doesn't go knock on the people's door and say, "You're a single mother who needs help;" instead, you've got to find it yourself. That's one of the things that motivates me.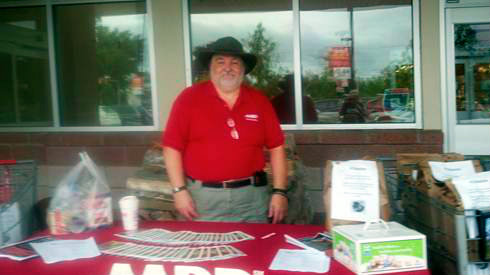 You've specifically helped people complete the medical deductions worksheet that's part of the SNAP application process; where does your expertise in this area come from?

In my retail experience I was more on the operations side, which meant running inventory, getting the right things you need, and hiring and firing people, and every new hire meant about 20 hours of paperwork just to get them into the system. I did that stuff in my sleep. So, once I did something similar to it [as an AARP volunteer], for me it just ended up being simple. It's a breeze.

What do you "get back" from volunteering ?

For me, it's that I help people who are less fortunate or who have problems but don't know how to go about finding a solution to their problems. This country needs more people to volunteer. It used to be that neighbors had to help each other because sooner or later you'd need each other, but a lot of that—and volunteerism—just doesn't exist anymore. I guess if you're a true volunteer, [the motivation] is the fact that you're helping someone.

What is a memorable experience you've had from your volunteer work?

My memorable experiences are the smiles on people's faces or the look in their eyes when they realize they've gotten the help or the answer they needed, and when I see the stress and the burden disappearing off their shoulders so they can concentrate more on kids or family or wherever else.

All the different [events] we go to for the elderly, etc., people have a lot of questions, and there's not just a 411 number they can dial. If they don't know how to find out about something they say, 'Oh well, that's life,' and then they don't get the help.

What would you say to someone on the fence about volunteering?

If they want to help out, they should give it a try! They've got nothing to lose except a little time. As they say, 'Try it, you'll like it!" I tried it and I liked it. There's always a variety of things to do; you're not doing the same thing every time because there's always something different.



Thank you, David – and thanks to all our dedicated Bay State volunteers! Find out more about volunteer opportunities with AARP Massachusetts. Email us at ma@aarp.org or call us at 866-448-3621.