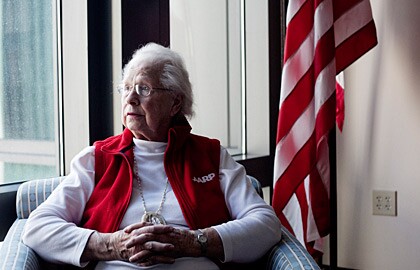 By Janice Brewster • At one of 15 food drives sponsored by AARP Ohio last year, volunteer Ed Cokley handed special bags to customers as they entered a Dayton grocery store. Shoppers used the bags to purchase nonperishable food to donate.
Cokley, 62, of Dayton, was one of 30 volunteers who helped collect about 3,200 pounds of food at Dorothy Lane Markets for the Drive to End Hunger effort sponsored by AARP and AARP Foundation. The donated food was delivered to the homes of low-income older residents by Comfort Keepers.
In 2012, volunteers statewide collected more than 8,000 pounds of donated food.
Cokley said the experience was "very rewarding to know that what we did will benefit seniors who really can use the help."
Last July, Bill Catlin, 71, a retired police chief from Lordstown, joined other AARP volunteers at a Mahoning Valley Scrappers baseball game in Niles. As part of the Walgreens Way to Well Health Tour with AARP, they greeted people and offered them the opportunity to undergo free screenings such as cholesterol tests and blood pressure readings.
Always room for more
Cokley and Catlin are among about 1,000 AARP Ohio volunteers who participate in AARP projects. But there's always room for more.
Ways to volunteer exist for people with limited time as well as for those with the desire for deeper commitment, said state president Mike Barnhart, 72, of Centerville.
Some projects last a few months. Volunteers with AARP Foundation Tax-Aide, for instance, help primarily low- and moderate-income older people file their taxes from Feb. 1 to April 15.
Other programs continue from year to year. For example, AARP Driver Safety instructors, who present tips and techniques at classes throughout the year, set their own class schedules.
Some projects—such as a food drive—may take only a few hours on a single day.
To volunteer, send an email to ohvolunteers@aarp.org. Also, the AARP Create the Good website lists calls for volunteers in communities nationwide—information useful to Ohio residents who might like to volunteer on vacation or while living at a seasonal home.
Bob Knox, 65, a retired barber from Cleveland, filled out the prospective volunteer form on the AARP website in 2010. AARP sent him an online inventory of skills to complete, and soon he was asked to go to Columbus for training in citizen advocacy.
Since then, Knox has met with state legislators and their aides. His experience advocating for issues of importance to people over 50 piqued the interest of his wife, Joyce, 66, a veteran community activist. She became a volunteer advocate for AARP as well.
Help out from home
There's also a need for AARP volunteers who can help from home. Some 20,000 AARP members in Ohio contribute by contacting regulatory board members when a utility rate hike is under consideration or by reaching state and national lawmakers if policy decisions that affect older people are being debated.
All AARP volunteers receive training, if a task requires it, and expenses may be reimbursed.
"A person who stays active is going to feel better," Cokley said. "You feel good, and you keep that extra spring in your step."
A 2010 survey by UnitedHealthcare and VolunteerMatch found that 68 percent of respondents who had volunteered in the previous year said those activities led to a feeling of improved physical health.
Donelda McWilliams, 88, of Defiance, has frequently visited state and federal lawmakers to talk about AARP's concerns. Where would she be without volunteering?
"Lost," she said. "I've made a lot of friends volunteering."
Janice Brewster is a writer living in Cincinnati