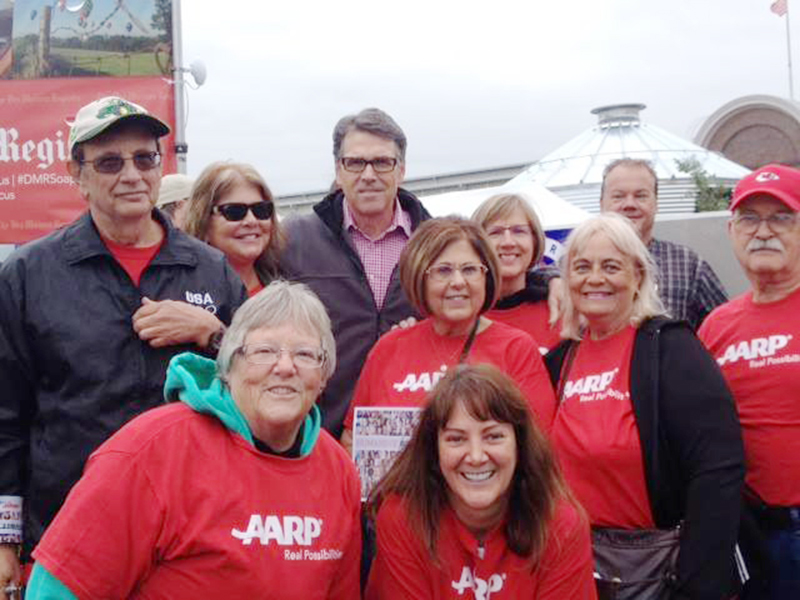 Because of its first-in-the-nation caucuses, presidential candidates make frequent visits to Iowa's towns and cities long before the official campaign season—and when they do, AARP Iowa volunteers are there to make sure that the candidates know Social Security is important to our members.

At gatherings large and small this summer, groups of volunteers clad in their distinctive red AARP t-shirts ask candidates the question : "How are you going to address Social Security's financial shortfall and reform the program to put it on stable ground for future generations?"

To get involved with AARP's statewide 2016 campaign to keep Social Security in the forefront email aarpia@aarp.org or call 1-866-554-5378 toll free and ask for Connie Eastman.
AARP is non-partisan and won't be endorsing a candidate from either party, but Kent Soven, AARP Iowa State Director says that the idea is to get the candidates talking about their solutions for Social Security—a program that is sole source of support for many members.

"We want this crucial issue to be on their radar," says Sovern. "And hearing the question from the people who are directly affected—our members—ensures that Social Security stays at the forefront."

Here's a clip from Claudia and Host explaining why they take the time out of their lives to attend candidate events and ask the question.


https://youtu.be/Rdyr3RWhDD0[/youtube]



The volunteers are continuing their efforts throughout the summer and into the fall.