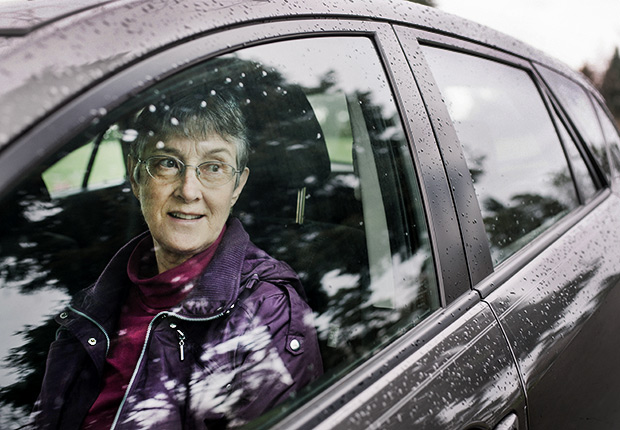 By Vanessa Ho

Lois Jones has been driving for 55 years but still learns plenty of new things every time she takes an AARP Driver Safety class. This year she learned about bike boxes, rules for double-laned roundabouts, and other tips to help her drive safely and confidently.

"I always feel like I've gotten the latest strategies on driving and being aware of other drivers, and how I can handle that," said Jones, 71, of Seattle. January was the third time in six years that she's taken the class.

The AARP Smart Driver course focuses on the latest safety tips, road rules, car features and ways to handle physical changes that affect driving. Last year, more than 12,000 people in Washington took the course in classrooms or online.

Many enroll in the class to get a discount on their car insurance premium, but they end up with a "toolbox of strategies" to improve their driving, said Corine Olson, an AARP Smart Driver instructor in Seattle.

"We look in the mirror and we see our parents," said Olson, 69. "We feel like we're still in our 30s or 40s, and we think we can still drive the same way."

But aging affects vision, hearing, reaction time and flexibility. As roads become busier with traffic and bicyclists, driving can be more stressful and risky.

Nationally, the number of drivers 65 and older has increased by more than 20 percent since 2003, to 35 million in 2012. Collision injuries have also risen, with 214,000 older drivers injured in 2012, a 16 percent jump over the year before, according to federal data.

"Older drivers, they feel out of control a little bit," Olson said. "They might run over a curb, or their reaction time isn't as fast. Really, the goal is to help them regain that control and comfort level by giving them that toolbox."

The eight-hour class, often given in four-hour segments over two days, was revamped last year with an easy-to-follow format and more emphasis on the effects of aging. It's aimed at drivers 50 and older, but anyone can take it. Classes are offered throughout Washington.

Discount on insurance
Drivers 50 and older who complete the course—classroom or online—may be eligible for an insurance discount. Drivers should contact their insurer for specifics, according to the state Office of the Insurance Commissioner.

Olson encourages students to do a physical assessment. She asks: Do you need a hearing test? How is your peripheral vision? Can you turn your neck to look behind you?

Then she teaches strategies. She tells her students: Allow plenty of space ahead of you if your reaction time has slowed. Perhaps get a car with a rear-view camera if you can't turn your neck. Stay physically active to facilitate driving for as many years as possible.

"A lot of people think we're going to tell them how to drive," said Gordon Olson, 81, the Smart Driver course coordinator for Washington. "No. What we're doing is reminding them about the laws and suggesting how to do something about any shortcomings they're finding in themselves."

The class includes an overview of revised safety guidelines, such as the correct hand positions on the steering wheel—4 and 8 o'clock—because of air bags. That's different from the "10 and 2" positions many drivers learned years ago.

The class also covers newer traffic rules and symbols, such as bike boxes (the green rectangles at some busy intersections); they're for bicyclists to wait at a light, in front of cars.

"I had been wondering about that," Jones said.

The course led to a 10 percent discount on her insurance, but she also ended up learning a lot: "Every time I take the class, I come away feeling that I'm more on top of things."

The course is $15 for AARP members and $20 for nonmembers. Go to aarp.org/drive or call 877-846-3299 toll-free to find a course nearby or to learn how to become an instructor. An online course costs $17.95 for members and $21.95 for nonmembers.

Vanessa Ho is a writer living in Seattle.