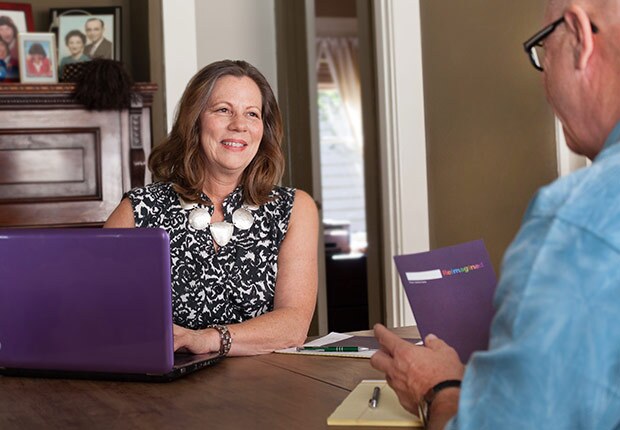 By Leslee Jaquette

Drawing on a background in sales and human resource management, Dori Gillam, 62, of Seattle, has for 15 years run a consulting business, Creative Leadership Resources, for boomers on how to make career changes. Two years ago, she began conducting workshops called Positive Endings, advising clients on end-of-life planning.

Her path to an encore career was similar to the course of introspection laid out in the AARP Life Re­imagined program.

Inspired by the book of the same name by Richard Leider and Alan Webber, the program offers checkup sessions, led by volunteer facilitators, designed to serve as a road map for people of all ages to change their personal direction.

Facilitators such as Gillam encourage older adults to embrace their possibilities and to use the rut-breaking, life-changing tools introduced in the program's workbook.

"Volunteering with the program dovetails with what I am already doing—helping boomers and seniors look at their options," said Gillam, who was among the first wave of facilitators trained for the AARP Washington Life Reimagined program.

Gearing up for change
Gillam described two of the program's tools as revolutionary.

The Life Reimagined Spiral is a graphic representation of a person's life from birth to death and helps participants plot where they are in terms of how many active years they are likely to have left.

"It's an 'aha' moment that can cause some people to get quite emotional," Gillam said, because people suddenly realize they have a limited amount of time to pursue a new goal.

The Life Reimagined LifeMap offers people ways to chart their next step toward a goal when they want to change direction. It helps them find the resources and the people to help them refresh their lives.

"The map has helped me complete another next stop in my personal growth, which is volunteer training in hospice and bereavement coaching," Gillam said.

Already a volunteer with the AARP program Decide.Create.Share., which focuses on helping women plan for a secure future in several areas, including their finances, Gillam received facilitator training in March.

About 20 volunteers have facilitated Life Reimagined classes in the Seattle area.

Cheryl Weber, AARP Washington outreach director, said she needs more volunteers. One goal is to partner with local library systems.

"I want a trained facilitator in every corner of the city," she said.
Weber reported that several course participants have been "unstuck" by the spiral and map.

One man has run a marathon; several women "right-sized" their belongings. And some adventure seekers planned to set sail on around-the-world cruises.

The checkup has inspired Weber to embark on a weight-loss program, fulfill a longtime desire to learn Spanish and create a better work-life balance.

She invites the public to learn more about the program at a free event with Chris Gardner on Dec. 10 from 6 to 8 p.m. at Seattle Central College's Broadway Performance Hall, 1625 Broadway.

Gardner, an AARP ambassador, is a best-selling author and inspiration for the movie The Pursuit of Happyness, starring Will Smith. He will share how he overcame obstacles to build a successful career and then become a philanthropist.

Weber noted that the typical response to the Life Re­imagined class is like her own or Gillam's. "People say, 'Wow! This is exactly what I need to do, and here are the tools to do it.' "

To become a Life Reimagined volunteer, email Weber at aarpwa@aarp.org or call 866-227-7457 toll-free.

For a schedule of upcoming classes, visit reimagined.org.

To register for the Chris Gardner event, call 877-926-8300 toll-free, or go to aarp.org/seattle.
Leslee Jaquette is a writer living in Bellevue, Wash.