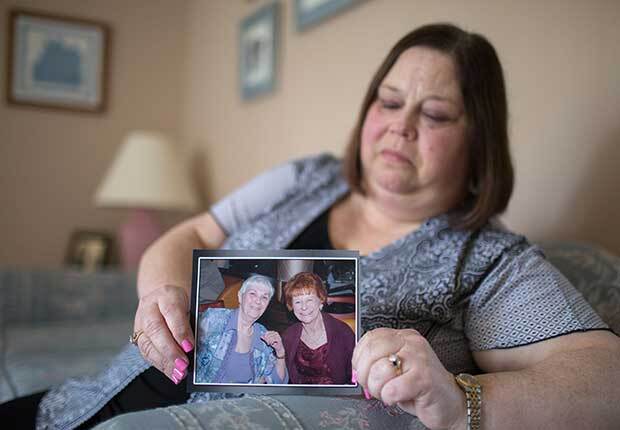 By Dana E. Neuts

Sisters Helen Sipes and Betty Knecht lived in separate units of an Everett duplex until Helen developed Alzheimer's and moved in with Betty. For seven years, Betty lovingly cared for her younger sister, providing a comfortable, clean place to live, meals and companionship.
After a fall sent Helen to the hospital, the family realized they could no longer care for her at home. She was treated at a skilled nursing facility and then moved into the Cottages, a residential facility in Mill Creek specializing in Alzheimer's care, where she died in 2011, at age 80.
Helen's family said her three-year stay at the Cottages was possible only because of Medicaid.
"If she wouldn't have had Medi­caid, my aunt would have had to live with us. We would have needed to provide 24/7 care," said Betty's daughter, Libby Sei­del, 54, of Kent. "It was good for us as a family because we had quality caregivers, including an RN [at the Cottages], to give her the care she needed."
Celebrating its 50th anniversary next month, the federal-state Medi­caid program has changed dramatically, expanding beyond covering low-income pregnant women, children and disabled individuals.
With the passage of the 2010 federal Affordable Care Act (ACA), Medicaid in Washington—now called Apple Health—expanded eligibility, enrolling more than a half-million newly eligible adults, including over 222,000 people ages 50 to 64. Currently, it covers about 1.8 million state residents.
While the federal and state governments evenly share the cost of most Medicaid coverage in Washington, the federal government covers 100 percent of the expansion's cost, a share that gradually declines to 90 percent by 2020.
"Adults over 50 can get health care now that they couldn't before," said MaryAnne Lindeblad, Medicaid director for the Washington State Health Care Authority.

A wealth of benefits
Among the essential health benefits required for newly eligible adults under the ACA are ambulatory and emergency services, hospitalization, mental health and substance abuse coverage, prescription drugs, rehabilitation, laboratory services, preventive and wellness services, and chronic disease management.
In Washington, Medicaid has also added adult dental care, shingles vaccines and health screenings, and put a greater emphasis on healthy living. These services are delivered through six approved managed care organizations: Coordinated Care, UnitedHealthcare, Molina, Amerigroup. Community Health Plan of Washington and Columbia United Providers.
Ninety percent of all Medicaid recipients are assigned to one of these organizations. To ensure there are sufficient providers to serve Medicaid recipients, each managed care organization must offer enough primary care providers and specialists to serve at least 80 percent of the service area. Each service area is served by a minimum of two managed care organizations.
"Part of their approach is taking a holistic view of the person. In addition to provider-based care, they really try to advance healthy eating, exercise and prevention," explained Cathleen MacCaul, AARP Washington advocacy director. "A lot of people who are now qualified for Medicaid through the Affordable Care Act have an opportunity to be healthy and address potentially chronic health conditions."
AARP Washington encourages people to save for retirement now to help take the pressure off Medicaid, which is designed to help those most in need. AARP is also pushing the Legislature to fund a study of long-term care supports and services.
Lindeblad, the state Medicaid director, said additional improvements are needed in health care access and delivery, cost-effectiveness and accountability, as well as ensuring that services are evidence-based and coordinated with Medicare. Another necessary change for Medicaid is improving its coordination with Medicare, especially for individuals with multiple chronic conditions.
"Washington is one of a large handful of states that is aggressively trying to break down those barriers to get those [two] programs to ork together," said Matt Salo, executive director of the National Association of Medicaid Directors.
For more information about Washington's Medicaid program, go to hca.wa.gov/medicaid.
Dana E. Neuts is a freelance writer based in Seattle.