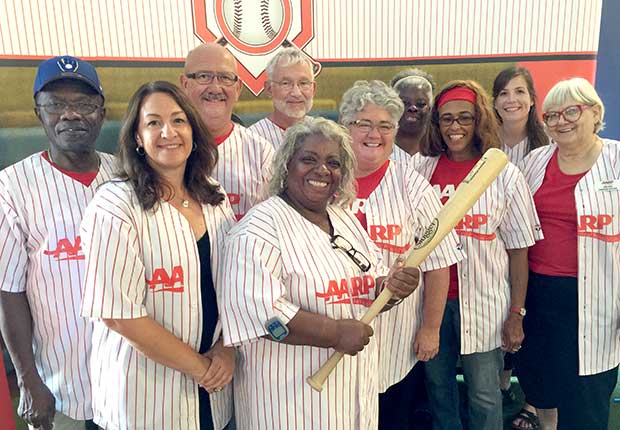 By Larry Sussman

Grandparents are always looking for ways to have bonding adventures with their grandchildren. Now, through an AARP partnership with the Milwaukee Brewers, you can attend a baseball game with family and friends for half price—a way to add to your memory bank and go easy on your piggy bank.

"I think that it's good to share with our grandchildren who we are and what we like. We need to expand their horizons," said Gary Sprong, 63, an AARP volunteer from Milwaukee.

Last summer, he took his granddaughter, Ella, then 9, to a Brewers game, using tickets discounted for AARP members, their families and friends. Sprong said the details of the game were not of great concern to his granddaughter.

"I know that it wouldn't matter much to her who they played," he said. "It was more important just to be with me."

Ella does not necessarily like baseball, but Sprong thinks she "appreciates the fact that we have time together. I hoped that it would be something that she liked and we could do it again."

Raised on the Milwaukee Braves, who moved to Atlanta 50 years ago, many Wisconsin grandparents have transferred their allegiance to the Brewers and Miller Park. It seems that baseball's appeal is ageless.

On a clear day, the stadium roof opens. Fans luxuriate in the sun while sipping a beer or just talking. At tailgate parties before the game, you can smell and eat all kinds of sausages, and later, during a break in the middle of the 6th inning, watch a race among five costumed sausage characters.

Half-price tickets
For the third straight year, AARP is offering discounted tickets to five Brewers afternoon games: against the Chicago Cubs, May 19 (12:40 p.m.); the St. Louis Cardinals, June 1 (12:40 p.m.); the Los Angeles Dodgers, June 30 (1:10 p.m.); the Atlanta Braves, Aug. 11 (1:10 p.m.); and the Colorado Rockies, Aug. 24 (1:10 p.m.).

Half-price tickets are available for these sections: Field Outfield, which normally cost $30 to $55 per game; Loge Outfield, $20 to $50; and Terrace Reserved, $12 to $25.

Ticket prices vary depending on demand, the Brewers' current performance and the opponent, said Tyler Barnes, the team's vice president for communications.

Fans can stop off at the AARP table in the stadium concourse to get information on AARP activities. Kids can grab a bat, get into a batting stance and pose for a photo in front of a large cutout of an umpire and catcher. Volunteers also pass out baseball-themed AARP hand fans.

After the game, everybody can participate in the Senior Stroll, getting a unique perspective on the stadium by walking along the outfield warning track.

"I think that it's just a treat to be on the field. You don't usually get to see the stadium from the bottom up," said Ken Kehl, 74, of Milwaukee, who has worked at the AARP table.

AARP discounts are also available with many other Major League teams.

Baseball is an approachable sport for many generations, said Sam Wilson, state director for AARP Wisconsin. Unlike football players, many baseball stars are not mountainous—and you can see their faces.

"There's a sense of looking at a ballplayer and saying, 'If that guy can do it, so can I,' " Wilson added.

To get the discounted tickets, visit brewers.com/groupvip or call 414-902-4523 and use the promo code "Fun50."

Not a big baseball fan? AARP Wisconsin has scheduled other activities in the Milwaukee area.

These include free screenings of Movies for Grownups, 20 percent discounts on some Milwaukee Repertory Theater tickets, and the free Milwaukee Money Matters Conference April 26, where participants can get advice on finances and benefits. Go to aarp.org/wi and check out the Upcoming Events page.

Larry Sussman is a writer living in Fox Point, Wisc.