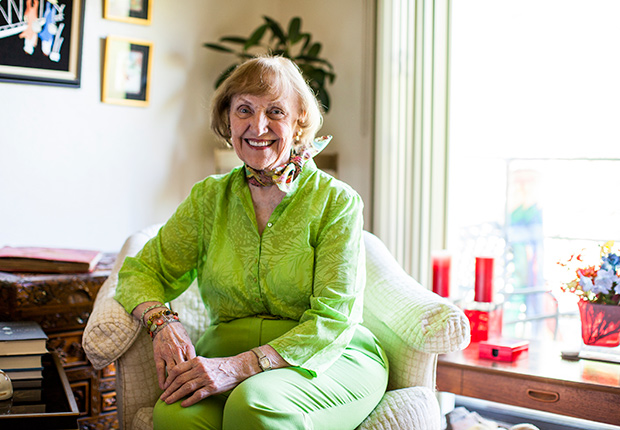 By David Lewellen

Pat Finder-Stone woke up with a sharp pain in her abdomen one morning last year. A full day of tests in the emergency room yielded no definitive answers, and she was referred to an oncologist.

It might simply be an ovarian cyst, but it could be cancer, the oncologist told her, suggesting a biopsy to find out. Finder-Stone, 85, said no. "I've lived a full life and a good life," she said. And, as a nurse, she had seen too many patients "undergo procedures in the last months of their life that make life miserable."

Finder-Stone's oncologist "was so supportive," she said. "He said, 'I agree with what you're saying, and let's watch it.' " Since then, her pain has gone away, an ultrasound has shown no changes, and life goes on for the De Pere resident.

"I think the moral of the story is that people really need to ask questions," she said.

To help patients learn to be skilled consumers of health care, AARP is promoting the Choosing Wisely campaign, an initiative of the American Board of Internal Medicine Foundation. The national effort encourages people to get only the care that is necessary and appropriate.

Mary Riordan of the Wisconsin Collaborative for Healthcare Quality, which is running the Choosing Wisely campaign in the state, said the goal is "to help physicians and patients engage in conversations about appropriate care at the appropriate time."

Overused procedures
Many medical specialty associations have listed five commonly overused tests in their fields, said Jeffrey Huebner, a Madison family physician who works with Choosing Wisely. The campaign is publicizing those recommendations, such as avoiding imaging for an uncomplicated headache or low back pain in the first six weeks.

Like Finder-Stone, Genie Deutsch, of Fox Point, knows the medical community from the inside; she used to work for a health agency and approaches doctor appointments with some skepticism.

Last December, when her doctor suggested a bone density test, she said no. Deutsch, 82, has no indication that her bones are brittle, and she knows of complications with the medications used. Her doctor "wasn't very happy, but he couldn't force it on me."

In past years, Deutsch has also declined radiation therapy following uterine cancer, and a colonoscopy. A son who is a physician helps her calculate risks and benefits.

Being an informed consumer does not necessarily mean challenging your doctor, but it does mean asking questions and talking. "At least feel more comfortable asking for help in understanding," said Lisa Lamkins, advocacy director with AARP Wisconsin.

Huebner and Lamkins both suggest bringing a written list of questions to a doctor appointment. Here are five common ones: Do I really need this test or procedure? What are the risks? Are there simpler, safer options? What happens if I don't do anything? How much does it cost?

Also, many physicians now offer printed summaries of your visit. If you don't get one, ask.

Doctors increasingly expect patients to have good questions, Huebner said, and "the newer generation of physicians has had more training in patient-centered care."

"There are a lot of gray areas" in medicine, Huebner said, and doctors and patients should discuss them frankly. Even with recent technological advances, "a lot of clinical medicine is still based on doctor-patient interaction."

For more information, go to choosingwisely.org.

David Lewellen is a writer living in Glendale, WI.