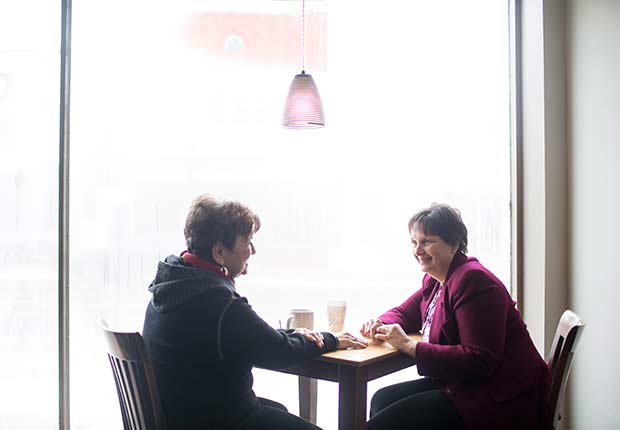 By David Lewellen

When Julie Anderl was diagnosed with dementia in her early 50s, her mother, Janet Rubenzer-Pike, faced a crisis that few parents expect. "Who thinks their child is going to have dementia?" she asked. "It was such a shock."

But, Rubenzer-Pike said, "It takes a village"—and their town of Chippewa Falls has become a leader in raising awareness of dementia among businesses.

Anderl, 55, had been a well-known attorney in the town of almost 14,000, especially at 4:30 AM Coffee House, where she was a regular. "They would call and say, 'Julie left alone,' " said Rubenzer-Pike, 74, and when her daughter had trouble using her credit card, they let her use prepaid cards or run a tab.

"At first she had trouble counting change, so we would help her do it," said Tracy Heidtke, 44, co-owner of the coffee shop. Now Heidtke makes sure that all employees know Anderl's usual order, because "she knows what she wants but can't remember."

Along with 4:30 AM, about 25 other businesses in Chippewa Falls have had their staffs trained to recognize the needs of people with dementia. Possibly, Rubenzer-Pike said, "having a face and family that they can look at and know made a difference."

And her daughter, she said, is "just thrilled" about the assistance in stores that leaves her a measure of independence.

Around the state, the Department of Health Services (DHS) is providing resources for efforts to set up dementia-friendly communities in conjunction with hospitals, Alzheimer's organizations and other concerned groups—including AARP Wisconsin.

"It's a community-wide effort to make sure there's no stigma—for the community, the individual or the caregiver," said Sam Wilson, state director of AARP Wisconsin. The idea is to "make sure everyone feels included as part of the community."

Businesses and employees can look for signs that a customer may have dementia and learn appropriate responses. Workers are taught to talk more slowly, wait patiently for an answer and give one direction at a time. Businesses can also help with directions. For instance, a drugstore might draw arrows on the floor from the entrance back to the pharmacy window.

Popular 'memory cafes'

Kristen Felten, dementia specialist at the state DHS Office on Aging, noted that nationwide, 70 percent of people with dementia live at home. "The goal is to help people live in the community as long as possible," she said. An isolated person often means an isolated caregiver, "which is detrimental to everyone involved."

Along with business training, many cities have set up "memory cafes"—regular gatherings for those with mild dementia and their caregivers. "There's laughing and sharing in an environment where people feel comfortable," said Sue Konkel, the Healthy Brain Initiative project coordinator at DHS. "It was exciting to see how enthusiastic people were about being engaged."

The Fox Valley Memory Project has trained about 180 businesses in dementia awareness and set up seven locations for memory cafes in Appleton and outlying areas.

"People would come even in a snowstorm," said Beth Belmore, chair of the initiative. In her 30 years working on health projects, "this project has had more support, more partners, more attention than any other I've ever been involved with."

Unfortunately, Julie Anderl's condition is not unique among people her age. "We're more frequently finding [dementia] in the 50s and 60s," Felten said. Although dementia rates are not rising, the total 50-plus population is growing, and detection and awareness have improved.

In Chippewa Falls, workers have learned "to recognize people who need help and treat them with respect," Rubenzer-Pike said. But more broadly, "Everyone with a problem should be treated that way."

For more information on the program, go to dhs.wisconsin.gov/dementia/.

David Lewellen is a writer living in Glendale, WI.