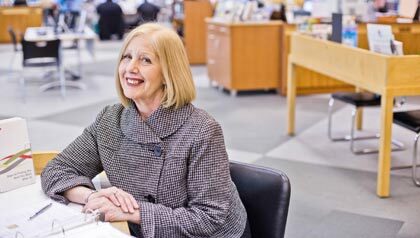 • By Holly Fisher
Ann Ohlinger spent most of her career living and working in Connecticut before moving to Columbia in June 2011 to be closer to her daughters.

Less than a year later, she was laid off and faced the prospect of job hunting in a city where she knew few people and had to impress employers who weren't familiar with her years of nonprofit and education experience.At the same time that Ohlinger lost her job, the AARP Public Policy Institute reported that older job seekers were out of work for a longer period of time than younger workers, even though their overall unemployment rate was lower.

Ohlinger, then 58, threw herself into the job search but found the experience "very defeating, very isolating and very frightening."

That is until she found the Richland Library in Columbia.

Wealth of resources

The Business and Job Center there offers assistance from career coaches, support groups, classes on résumé writing and interviewing as well as online job resources. The center also has 18 computers dedicated to job seekers.

Working with AARP South Carolina, the center provides a wealth of AARP resources specifically crafted for job seekers 50 and older. The center and AARP also present a workshop called Encore Career Tour for 50+ Job Seekers.

Ohlinger took that class and met with a library job readiness trainer to revamp her résumé so it was more modern and better reflected her skills. She also went to the center's support group for older workers.

"I didn't feel so alone anymore," she said. "Listening to other people's stories made mine feel less painful."

Last fall, Ohlinger was hired as a community health worker for Eau Claire Cooperative Health Centers in Columbia.

The Business and Job Center's staff members track what they call transactions—any classes taken, meetings with career coaches or other job resources used. Between 2010 and 2012, the number of transactions more than tripled from 4,224 to 14,480, said Diane Luccy, the center's manager.

The staff doesn't track the age and race of those using the center, but staff members have noticed an uptick in the number of older people who are seeking job assistance.
"In the very beginning we had some 50-and-over job seekers, but those numbers have increased tremendously," said Sylvie Golod, career specialist at the center.

In 2011, 9.9 percent of state residents 50-plus were unemployed.

Seeing similar numbers nationwide, AARP launched Life Reimagined for Work, a partnership with LinkedIn, a social networking site. The site provides resources, information and an online community for job seekers with 20 or more years of experience. The site also lists job opportunities at 130 companies that value experienced workers.

Building connections

"Connectedness is the new currency," said Adam Sohn, AARP vice president of brand alliances and partnerships.

The partnership with LinkedIn makes sense because it focuses on helping people advance their careers, he said. Connecting online becomes even more important for job seekers who don't have access to resources like Richland Library's Business and Job Center nearby.

The growth of the Work Reimagined site helps debunk the myth that older workers don't want to use technology.

"Technology is not an impediment," said Jean Setzfand, AARP vice president for financial security. "It's something that can be learned."

South Carolinians can also use the following websites to look for jobs and resources in their communities:

WorkSC.org, from the South Carolina State Library, offers information on everything from getting a GED to starting a small business.
Jobs.SCworks.org, from SC Works Online Services, offers tools for creating résumés, cover letters and exploring careers.
SCes.org, from the state's Department of Employment and Workforce, offers information on assistance programs for veterans.
Holly Fisher is a writer and editor living in Charleston, S.C.